Hurry on over to Shake Shack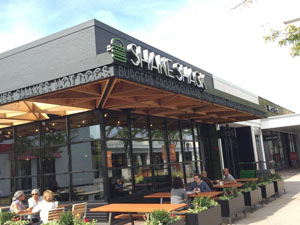 Yeah, I know. You think it is just a milk-shake stand.  Yeah, they do have a variety of milkshakes.
But wait, Shake Shack is much more than that! In fact, it is, by far, an outstanding re-vamped version of fast food.
The Shake Shack, love that name, originated as a small burger stand in New York.  It now has "shacks" throughout the world.
Ordering your food is the same as if you were at any other fast food chain. You wait in a line and they give you a buzzer. Although the wait is longer than most chains, believe me, it is worth it. The quality of the food is outrageously outstanding.
When I went  to their Old Orchard location, yes, a few blocks from Regina, one busy Saturday night, the service was really good. The workers, who you would think would stressed because of the dinner rush, were  actually very polite and helpful.
I ordered a ShackBurger, which I thought was going to be your typical  fast food cheeseburger. It definitely was not!
The burger was amazing. The burger was made with high quality beef and the secret Shack sauce. I can say hands-down it was one of the best burgers I have ever had. You can also order hot-dogs, custard, and dog-biscuits for Fido.
My one and only complaint is the not so helpful calorie count next to each of the items on the menu. Ouch, the food may be delicious, but those calories will set me back a week in exercise. I never would have thought that the food contained so many calories.
The chain is a little pricey. However, you are absolutely getting what you paid for.