How Alexander Hamilton is Revolutionizing Broadway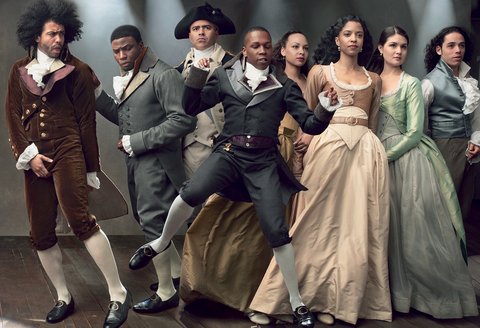 Let's be honest. There isn't much you know about Alexander Hamilton. The only context you have probably ever seen him in is on the ten dollar bill or in you U.S. history textbook. However, if you wanted to learn more about one of our founding fathers in an interesting way, I have just the Broadway show for you! I should explain, Hamilton: An American Musical isn't just any other jazzy show tune theater experience. It is a hit show centering around none other than Alexander Hamilton. The music featured in the show is strictly hip-hop/rap (complete with a Destiny's Child-influenced song).
You may be thinking "Why would someone write a musical about Alexander Hamilton? And how can it be good?" Well, then you are in the same boat that I was in about two months ago. The story about how Lin Manuel-Miranda came to write the musical was actually by fate in a way.
During a break from starring in his Tony Award Winning production of In The Heights, Miranda came across an eight hundred page biography about Hamilton written by Ron Chernow. Half way through the read, Miranda couldn't believe that there was never a musical based on the founding father.
Hamilton's life is truly a rags to riches story. "This is a guy who, on the strength of his writing, pulled himself from poverty into the revolution that helped create our nation. And caught beef with every other founding father. There is great drama, there's a great love story, there's incredible political intrigue," Miranda said in an interview with CBS Sunday Morning.
Sure, there has never been a hit Broadway show with hip-hop influences, but Hamilton is breaking down every other boundary known within the Broadway sphere. A big part of this revolution is the fact that every main cast member, except Jonathan Groff who plays King George III, is non-white.  This may not be an impressive feat when you look at casts like The Lion King, where an all colored cast is the obvious choice. In Hamilton's case, these actors and actresses are playing dead white people.
Through casting and music, Alexander Hamilton is revolutionizing Broadway 200 years after his untimely death. By challenging our basic ideas of what theater is, Hamilton is making us see what theater ought to be.
Barbara K. Toy, a friend of mine and a producer for theater who has worked with The Public Theater and The Tony Awards, described just how Hamilton is redefining Broadway for all of us.  She explains, "It went against the conventional thinking that the next new Broadway hit needed a 'star' or reliable source material such as a hit movie, book, or jukebox background that already has a built in audience in order to succeed. I think Hamilton perfectly blends elements of the 'current' musical genre of hip hop while incorporating classic musical sources in the style of Sondheim, Kander, and Ebb, opera, pop, etc.  The appeal is the story, music, lyrics, not who is on stage, but what is on stage."
"I hope other producers, theaters, and writers will be open to the fact the Hamilton is not just for each racial group that is represented. But that it is breaking barriers and everyone will pay to see it.  To the fact that it can be presented to everyone and it is color blind to the audience and vice versa," she continued.
Of course, there are many ways that Hamilton can change society's view on race, hopefully making all of us more tolerant. Toy himself stated that "I hope that it [Hamilton] educates people to be color blind to what they see in front of them and not make assumptions based on what they see. It is a long road because people will react and think a certain way about someone not matter what context they see them in."
Even though Hamilton is creating change right now, there is no promise that this change isn't temporary. Shows get to Broadway based on how well-received pproducers think they will be, and unfortunately not all "color blind" shows can be a Hamilton.
"…It still is, 'will an audience pay for what you present'? And given the majority are still a higher income bracket, white, and older it is hard to overcome prejudice.  Another Hamilton may not be out there, but I hope great stories told by people from all backgrounds in them will have an opportunity to be produced and presented," Toy explained.
The bottom line is that Hamilton has a great storyline and fantastic music. A show's success shouldn't be determined by who's in it. Just like other productions, it will make you laugh, cry, and feel just about everything else in between, no matter the race of the cast.