Harry: The Passionate Prince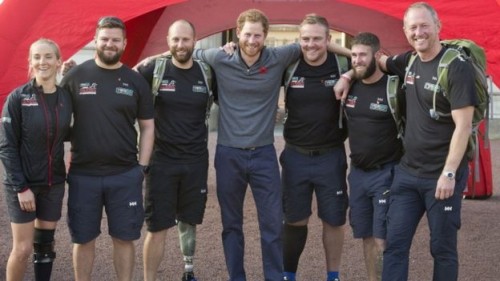 Kathryn Cressy, Senior Royal Correspondent
November 1, 2015
You may know him as the "Party Prince" or Prince William's slightly hotter (and less bald) brother. However, what you may not know is that Prince Harry  is extremely passionate about many issues. He has dedicated much of his time supporting not only  the armed forces in general, but its injured veterans.
Harry's love for the army began when he was very little. He always had a fascination with helicopters because of his father, Prince Charles, who was a pilot for the Royal Navy. After struggling to pass classes at Eton College, one of Britain's most prestigious all boys high schools, Harry decided not to go to university, but rather to attend the Royal Military Academy Sandhurst in 2005. Harry thrived at Sandhurst. Within a year, he had finished his officer training and was commissioned as a second lieutenant in the Blues and Royals.
After training at Sandhurst, Harry was eager to be deployed to Afghanistan, but the palace feared for his safety. Harry would not give up, and eventually Clarence House announced in 2007 that he would be taking on a tour in Afghanistan. After spending time in Afghanistan, Harry began training as an Apache Helicopter pilot for the Royal Air force. Then again in 2013, he undertook yet another tour in Afghanistan to fly Apache Helicopters.
After his second, and final tour, Harry began advocating for the welfare of veterans. He partnered with the charity "Walking with the Wounded" which raises money for re-education and re-training for injured service men and women. Harry made a 1,000 mile journey across both the North and South Poles to raise money for this charity.
In 2014, Prince Harry helped to create "The Invictus Games" which is an olympic-style competition for injured veterans. The aim of the games is to provide the veterans with recognition they deserve but without sympathy.
Prince Harry explained, "These Games have shone a spotlight on the 'unconquerable' character of service men and women and their families and their 'Invictus' spirit. These Games have been about seeing guys sprinting for the finish line and then turning round to clap the last man in. They have been about teammates choosing to cross the line together, not wanting to come second, but not wanting the other guys to either. These Games have shown the very best of the human spirit."
The first Invictus Games was help in London, from September 10-14, in Queen Elizabeth Olympic Park. Over four hundred competitors from all over the world participated in nine events. Veterans competed in swimming, sitting volleyball, wheelchair rugby and basketball, archery, indoor rowing, power lifting, and road cycling.
This year, Prince Harry announced that the 2016 Invictus Games will be held in Orlando, Florida from May 8-12.
"I am absolutely delighted that the United States has taken up that challenge and will host the next Invictus Games in 2016. I have no doubt that the USA will set the bar even higher than London did and put on a great show," Prince Harry said in his announcement.
Also this year, after a ten-year full-time military career, Harry announced he will be retiring from the Armed Forces. Through his military career, Harry has been passionate about his fellow service men and women. He has used his platform to advocate for veterans and has given them confidence they need after returning from combat. Harry continues his support of veterans through his work with the Invictus Games. Gone are the days of the "Party Prince." Harry is now the "Passionate Prince."