Go Cubs! Go!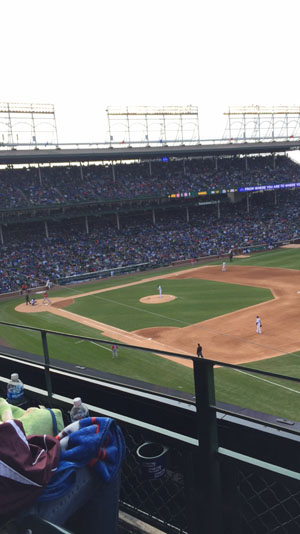 "We Are Good" are recent words that Cubs fans have been chanting across the city. From Instagram hashtags to Facebook posts, Cubs fans are beyond ecstatic about the teams' recent success.
The traditional Chicago baseball team has not won a Word Series Game since 1908. However, the team has  worked incredibly hard to change their losing streak.  The team recently shut out the Pittsburgh Pirates 7 to 2. This is a great example of the team's new mentality.
The Cubs 2015 season was the beginning of a new era for the typically forgotten team. They advanced to the playoffs and were so close to making it to the World Series. This effort sparked interest in fans everywhere. Since the past season, everyone has had their eyes glued to the team to see what wonders the Cubs will accomplish this 2016 season.
The Cubbies 102-year-old home field, Wrigely Field, also known as the Friendly Confines, has gone through a tremendous amount of renovations this year. The owners of the Chicago Cubs, the Ricketts, took a huge leap to update the traditional stadium.
According to dnainfo.com , "This year, work is focused on the office building, a state-of-the-art team clubhouse and the plaza, which some hope will become a town square for the neighborhood for events and gatherings."
The new renovations hope to bring a fresh new face to the iconic stadium. The goal is to make the fans' experience better each time they attend a game at Wrigley Field. The renovations are projected to take place over the next four years.
The improvements to the stadium come with improvements to the team. This year is supposed to be a strong one for the Cubbies. This brings great amounts of hope to lifelong Cubs fans who have been waiting for these great improvements for decades.
Junior Barbara Schultz says, "My Dad thinks this is the year that they will win the World Series."
This hope is bringing stronger attendance to the home games and  great pride to the city.