Get To Know Senior, Rhoda Akosah
If you've been around Regina anytime over the past four years, you've likely heard the name Rhoda Akosah at one point or another. Her accomplishments in and out of the school are nearly impossible to miss.  This article will supply you with everything you should know about Rhoda as well as her newly released podcast, The Confidence Studio, now available on Spotify.
Akosah was born in Ghana, West Africa. She was raised by her grandparents in Ghana until she was 15 years old. Once she finished junior high school, which in Ghana goes until ninth grade, she came to the United States for the first time to be with her parents and younger sister.
In primary school, Rhoda was "a bit shy" but always was one to take on leadership roles in and out of her school life. Towards the end of junior high school, Rhoda was president for her graduating class and vice President for the student body. Growing up, Akosah lived in a big house with her grandparents, uncles, aunts, and cousins. Being the oldest cousin, she always was around the house taking care of her younger cousins and family members. Responsibility and leadership are skills she's upheld throughout her entire life.
When asked if she's ever been faced with any challenges taking on such a strong leadership initiative, Akosah explained that "my classmates would always bug me for it but I just considered it to be one of the challenges that comes with leading a specific position."
Over time, Akosah realized that leadership was a great passion of hers and by the time she came over to the States, it was only "natural" for her to pursue leadership opportunities. Once she came to Regina Dominican, she knew that she wanted to grow her skills in leadership. She joined the Leadership Scholars program through the Leadership Institute, which gave her a number of connections to leadership positions outside of school like being a team leader for the Illinois Holocaust Museum.
As stated by Akosah, "Leadership is a journey that I love and that I'm never tired of."
In June of 2019, when Akosah officially moved to the United States, her father began the process for searching for high schools. He had trouble getting in contact with schools in her neighborhood due to selective enrollment regulations. Since Rhoda hadn't applied in the winter, she was behind on her high school entrance exams. Akosah's father was also very adamant on putting his daughters in a school that offered a good education. He was willing to sacrifice anything he had if it meant Akosah and her sister would be receiving an excellent education.
Regina Dominican was a last minute decision for Akosah and her family. A close friend from their church had provided them with information about Regina and told them to set up a meeting with the Admissions Department and tour the school. Akosah was immediately drawn to the the all girls aspect of the school and always had wanted to attend one back in Ghana.
Akosah explained how she, "didn't even know that all girls schools existed in America!"
In mid-August, Akosah toured Regina and "immediately knew" that this was where she would end up going. She was accepted on the second-to-last day of freshmen orientation and attended the last day of orientation for the class of 2023.
Over this past summer, Akosah worked as an intern for an organization called The Greenwood Project. It's a program that educates underserved Black and Latinx youth about the financial industry, ultimately opening a world of career opportunities for them.
As stated by Akosah, "It allows them to know what's really out there for the taking."
Akosah plans to go into business herself and claimed that the internship really helped her increase her knowledge of the finance world. During her intern experience, she would code with her team—typically with the Python or R coding languages—and practice investing in the stock market. Akosah loved working through the daily challenges with her fellow interns and one of her favorite aspects of the program was that a number of incredibly successful global financial firms would come into the internship to speak with the interns and provide information regarding the ins and outs of the finance world. Akosah not only met with but also toured several of the firms including Citadel Headquarters, UBS, and FTX. One of the major takeaways from her internship was that Akosah was able to form life-long relationships and connections with an array of major financial groups and figures. In the future, Akosah plans to return to The Greenwood Project in the summer of 2023 to work as an intern again and possibly join the financial team.
In addition to her growing skill for leadership, Akosah also enjoys exploring places, especially new ones, in her spare time.
As explained by Akosah, "The United States is a new place for me so I get to explore a lot of new places."
Akosah also loves being adventurous. During her internship at The Greenwood Project, she took advantage of her work location to explore downtown Chicago and all that it has to offer. Akosah visited over 17 places all throughout the city including a variety of museums and exhibits such as The Museum of Science and Industry and The Chicago Botanic Garden. She also enjoys partaking in a number of music-based hobbies like playing her keyboard, singing–especially in her Church, listening to music, and dancing. Akosah also loves painting and the calm, stress-free nature that comes along with it.
In addition to her work as a finance-based intern and leader of her peers, Akosah has several other incredible accomplishments in the process. Akosah has been working on a new podcast called The Confidence Studio in the recent months. When asked where her passion for female empowerment came from, Akosah claimed that her reasons were very personal to the country and society she was brought up in.
In Ghana, she explained that "mens voices are constantly being elevated" and how she doesn't want the the world to be the same as it was when she was growing up. Akosah wants the "narrative" to change and whatever she does, she wants people to be inspired.
"Especially women in Africa who think that they're not capable because they come from a specific place", she adds.
Akosah wants to inspire young women not to be afraid of dreaming big and pursuing high goals. Ultimately, she wants women's voices to be heard which is why she decided to start The Confidence Studio, a podcast rooted in uplifting and inspiring not only the minds of young women and girls but every person in the world. Every episode, the podcast discusses and reviews a different book written by a female author as a way of including women's voices in literature-based discussions. As Akosah explains, not having women be a part of the conversation is not only a "total injustice" to herself as a woman but also to the entire world of women. Ultimately, the podcast is designed to encourage confident, growth-mindsets as well as inclusivity.
Leave a Comment
About the Contributor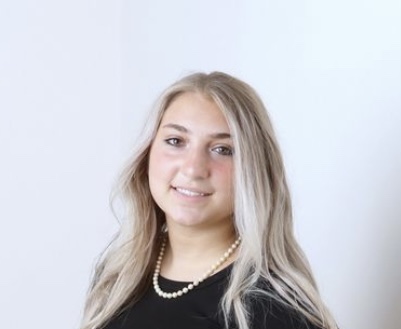 Ashlyn Foley, Staff Reporter
Ashlyn Foley is a senior at Regina Dominican High School where she serves as a staff reporter for Crown. She likes to write about the environment, space...