This Year's Earth Day Rally Raises Money for Marine Life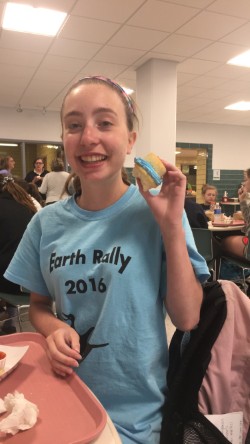 Earth Day began in 1970 as a way of bringing attention to the impact people have on the environment. It is a day dedicated to recognizing not only the importance of how much we are harming the planet, but about discovering ways each of us can help and appreciate the world.
Regina Dominican's environmental science classes aim to highlight these aspects of Earth day at their annual Earth Day Rally. Each year, the environmental science classes pick an environmental cause they want to raise money for, and then hold a school-wide rally and festival to promote their cause.
This year, after watching the film Blackfish about the mistreatment of Orca whales, the class was moved and disturbed by the mistreatment of the animals and the poor conditions they live in. After seeing this, the classes chose to donate the money raised by the Earth Day Rally to help save and preserve marine life.
The Earth Day Rally was held in the cafeteria on April 22. There was pizza, popcorn, homemade sweets, and lemonade made by the students in both classes of environmental science available for purchase. While some environmental science students manned the food stations, others developed and ran games.
Games included pin the tail on the whale and a cup toss that had a Swedish Fish as a prize. There was also a flower pot decorating station, which is an annual Earth Rally staple. There were both large and small pots to purchase. Students could decorate them with an impressive amount of paint and glitter. Small flowers were provided for the pots, making them a beautiful spring present for Mother's Day!
This year, Student Council and the National Honor Society donated dance marathon and student council t-shirts for sale to raise money.  For a little more money, students could make their own tie dye shirt.
The 2016 Earth Day Rally was a big hit, but, better yet, over $200 was raised for marine life conservation!