Don't "Truss" The Process
LONDON – The contest was on, a head of iceberg lettuce wearing a wig versus the head of a government. And not just any government, but one of the most powerful Western democracies, the United Kingdom. 
Following the recent resignation of Boris Johnson, who held the office of prime minister from 2019 to 2022, facing pressure due to multiple controversies, Liz Truss was instated as the latest leader of the Conservative party. Truss was the fourth prime minister within the last six years as Britain has gone through various stages of chaos, starting with Brexit in 2016. 
Truss faced a difficult contest for the office of prime minister, facing rivals such as Rishi Sunak and Penny Mordaunt, but emerged victorious, promising to "transform Britain into an aspiring nation." This vow was short lived when upon taking office, she chose her close friend Kwasi Kwarteng as her top finance minister who immediately fired Tom Scholar, a civil servant who spent thirty years serving various chancellors and prime ministers. Later that same day, Queen Elizabeth II, the longest serving head of state in English history passed away, sending the country into an intense mourning period. 
While the death of the Queen was able to stall politics for a few weeks, the Truss administration began finalizing their budget for when normal business resumed. This budget included various unpopular features such as tax cuts for the ultra-wealthy of the U.K. and removed a cap on bankers' bonuses, in the midst of a huge cost-of-living and energy crisis. Following this announcement, the pound, the currency of the U.K. crashed down to its lowest-ever level against the U.S. dollar, pension funds neared collapse and borrowing funds soared to extreme heights.
Truss later reversed her actions, such as the tax cuts and introduced economic policies favored by the Labour Party, the opposition to the Conservatives. This proved to be one of the final nails in the coffin as Truss lost most of her party's support  for her damaged credibility with her backtracking. As public support for her party dropped to record lows and her approval rating reached the lowest ever recorded for a prime minister, with over seventy percent, including conservatives, disproving of her, Truss was pressed to resign by all around her. Her crisis worsened as Suella Braverman, the interior minister resigned following an email breach. Braverman further damaged the prime minister's reputation in her resignation letter, voicing her concerns about the government's direction. 
Chaos had descended upon Parliament as more rumors spread regarding more resignations, vote on issues such as fracking reportedly turned into scenes of tears, shouting, physical altercations and harassment and even more Conservative members of Parliament called for Truss to resign. Finally, on October twentieth, she gave her resignation to the king, planning a new leadership election within the week, finalizing her tenure as prime minister for only 47 days, the shortest in the United Kingdom's history. 
The next prime minister will be Rishi Sunak, who originally lost to Truss in during the campaign process for the office. The Conservatives planned out a simpler process to avoid long campaigns. Candidates vying for the position had to receive 100 nominations among the 357 Conservative lawmakers by 2 p.m. on Monday. If there were complications with reaching the threshold, such as ties, there would be more votes and such. However, Sunak was successful in receiving an adequate number of votes and other members of parliament such as Mordaunt and Johnson dropped out of the race. 
This process in its entirety isn't exactly democratic. Truss was appointed in early September to replace Johnson. She was not elected by the general public but instead through a leadership contest within Parliament and then put up with Sunak for a vote from roughly 160,000 dues-paying members of the Conservative party, most of whom are likely middle-class, older white men. Though despite her resignation, Truss is also still eligible for a lifelong allowance funded by taxpayers, an unpopular topic considering her short yet disastrous time serving the country. If a general election were to be held today amidst this political crisis, polls indicate that the Labour party would sweep the election with a margin larger than two-thirds. A general election will not be held until 2025.
While Sunak is making history as both the first person of color and the first Hindu to serve as prime minister of Britain, a nation often known for its anti-immigration rhetoric, he will face the same issues that plagued Truss's administration, primarily tackling the economic crisis and restoring morale to his fractured party. 
Beyond having a political and economic crisis, Britain is also entering a new era with King Charles III, replacing his late mother, the beloved Queen Elizabeth II and many Britons have reported a lack of  faith regarding both their heads of state and government. This is off to a rough start for him as Sunak will face issues with relatability, he's estimated to be worth more than $800 million, which places him among the wealthiest class in Britain. His fortune is primarily from a hedge fund technology, which draws the same argument about if he truly needs the lifelong allowance from taxpayers if he's already so wealthy while in office that he cannot relate to any of the ordinary people struggling with the current cost-of-living crisis. The Sunaks are wealthier than the royal family and are under scrutiny for their lavish lifestyle, so it will be interesting to see how his tenure pans out with the current spotlight on his financial status as he attempts to avoid a recession and bring Britain back to financial prosperity. In the midst of all the political chaos in the U.K. it will be interesting to see if any other vegetables outlast the current leadership.
Leave a Comment
About the Contributor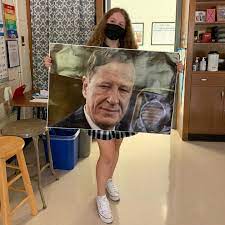 Maddie Lunt, Staff Reporter
Maddie Lunt is a senior at Regina Dominican High School. This is her first year on Crown serving as a staff reporter. She intends on writing about different...