Cross Country Hopes for State Again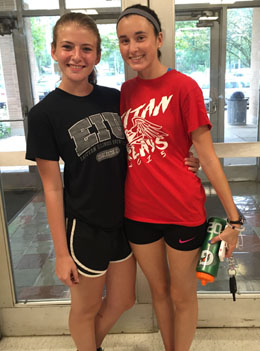 Regina's Cross Country team is racing right into their season, and are hoping to run right back to state.
The Regina cross country team graduated several key seniors last season. These seniors were instrumental in leading their team to state.
This season's biggest struggle according to Coach Block is the loss of last year's fast running seniors.  However, Block said that this year seniors, Ellie Spina and Caroline Galliani, and junior Colette Cooney are set to run well this season and will aid in the team's goal to go to the state competition again.
The team has a new face this year with many new freshman joining the team. Block said that only a few of the freshmen have run on a cross country team before they came to high school. Many of them are struggling with the fast pace, but are extremely quick learners.
Coach Block said the girls ran a good pace at their first meet. However,  because of the hot weather, the team only ran two miles instead of three. She said the team continues to improve.
Blocks shares some encouraging words about the upcoming season: "Our hard work in practice and over the summer is sure to bring us success. We look to qualify for state again as a team."