Behind Orchesis 2016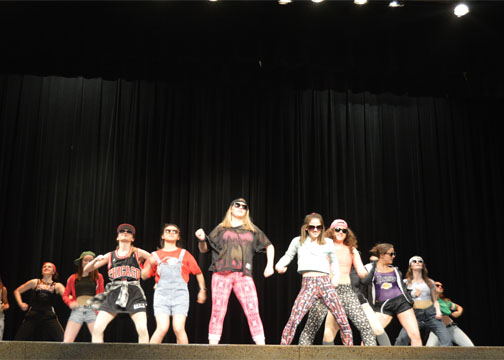 Hannah Wavrek, Sports Editor
February 21, 2016
Regina's dance group, Orchesis, is  open to both experienced dancers and those who just want to have fun and want to try something new.
The group is moderated by Miss Mayfield, but the group is by Orchesis students.   This year, Orchesis is piloted by senior captains Jessica Wollney and Diane Kraemer with help from junior captains Autumn Kelly and Christina Starcevic.
Members of the group are invited to apply to choreograph a dance. Then dancers are assigned to various pieces.  Typically, each year there is a separate duet by the senior captains and a larger senior dance.
This school year, auditions took place on Dec. 2 and individual and group dances were chosen before Winter Break.
Rehearsals began the first week of second semester and have ensued every Monday- Thursday.  The practice culminated with the Feb. 26 performance.
The theme for this year's recital was inspired by visual art.  Called Monet in Motion, the performance highlighted a dance with art as its original inspiration.
Captain Jessica Wollney said, "I am very excited to see all the dances come together and the finished product that everyone has worked really hard for. In Orchesis, we have a wide range talent; we have some people who just started dancing this year and others who have danced their entire lives. It's fun to see everyone working together for a common goal and how everyone improves throughout the course of the season!"
During the performance,  all the dancers had great energy and the connection to visual art was impressive. The different styles of dances enhanced the overall performance. The show was a success and is an event that is professional, entertaining, and fun.