Basketball: A Building Year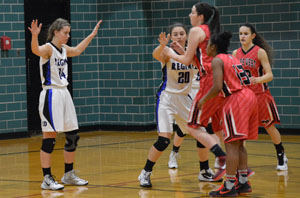 After half the season has passed, the Panther's basketball team is trying their hardest to pick up their record of three wins.
Captain Colleen Palmer '17 says, "This is a learning year because we have a pretty young team. Hopefully next year we will be better because we will have had a year of experience."
This season continues to be a learning year as there are five new faces who have joined the Varsity team. They are freshmen Kaitlin Byrne, Caitlin Ward, and Mary Grace Stanton, sophomore Kelly French, and junior Lauren Murphy. The team hopes that their strength grows and that next year will be a season that is full of opportunities and a better record.
The team's main goal to try hard and learn from past mistakes.
Caption Regina Trejo '17 says, "We just need to work hard in the off season to build our team's dynamic."
This past summer, the young team participated in two summer leagues, both of which were also a struggle. However, both Trejo and Palmer agree that if the team puts in the hard work over the next summer, the team will find success for their senior year.
This season has also included several injuries that has affected both the team's morale and on-court presence. The injured players include juniors Lauren Murphy and Mary Brikha with  knee injuries, and freshman Kaitlin Byrne who has a bruised sternum. This has affected how the team plays as a whole and has placed limitations on their original roster of 12 players.
On the bright side, the team has accomplished three wins this season. They defeated  Elmwood Park twice. The first time was at the IC College Prep Thanksgiving Tournament by one point and the second time the Panthers won 51-31. They have also defeated Northside College Prep by a score of 54-48. The team is pushing in practice to pick up their record. Sadly, they lost a hard-fought battle to the school rival, Resurrection.
The Panthers are definitely not giving up, and they continue to improve with every game.