Authentic Mexican at Uncle Julio's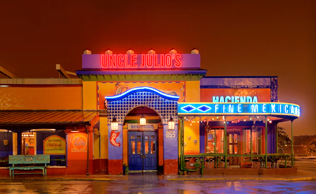 Hannah Wavrek, Staff Reporter
September 18, 2015
As Regina girls, we come from all different walks of life and have our own specific interests.  However, one thing is for sure: we all love to eat!
I recently dined at Uncle Julio's at Old Orchard Mall with four friends. It is a big Mexican restaurant that still has small and welcoming vibe.
We went on a Thursday night, so there was no wait for a table.  Despite this, there was still a bustling ambiance around the restaurant. It was the perfect mix of quiet and energetic.
Seated in the back of the restaurant, the waiter brought us warmed chips with salsa.  The complementary chips tasted delicious and were great to snack on while chatting and deciding what to order.  They also gave us the option of getting table-side guacamole.  This is when they bring a cart with all the ingredients to the table and make the guacamole in front of you.
The menu is also authentically Mexican.  It includes soup, salad, and lunch items.  Some of the more highly regarded categories of food include fajitas, enchiladas, tacos, and various platters.
Our table had a taco salad, tacos, and a steak enchilada platter.  All had amazing flavor and were cooked to perfection.
The salad came in a large bowl, but the rest of the entrees were small by comparison. Also, the prices were on the high side for the amount of food some people received.
Even so, my group and I loved dining at Uncle Julio's! We plan on going back soon!