Sister Mary Margaret Leaving Regina
New Role To Serve on Adrian Dominican General Council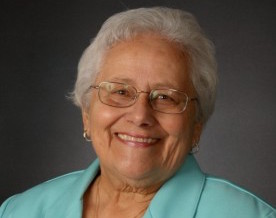 Hannah Wavrek, Sports Editor
March 22, 2016
Sister Mary Margaret has been the leader of Regina Dominican for the past 8 years. She started in the 2008-2009 school year and has brought a welcoming presence to the school ever since. Throughout her time at Regina, Sister has continuously steered the school into a forward direction, guiding the school to be the best it can be.
Sister Mary Margaret became president of Regina Dominican after spending 10 years of ministry in South Africa. Upon her return, Sister Donna Markham, prioress of the Adrian Dominican Sisters and Regina alumna, suggested she apply for the president job at Regina Dominican. She applied, was chosen by Regina's Board of Directors, and approved by the General Council of the Adrian Dominican Sisters.
While Sister has only been involved with Regina for eight years, she has been a Dominican Sister for 53 years. Her journey began at St. Alphonsus High School in Dearborn, Michigan. At St. Alphonsus, she was taught by Adrian Dominican Sisters. Sister Mary Margaret recalls them as "wonderful women who were filled with great joy and love of God." When speaking today, Sister Mary Margaret clearly conveys the profound effect the sisters have had on her life.
In high school, Sister Marcella Hess, one of her teachers, asked Sister Mary Margaret if she had ever considered becoming a sister. At first, she laughed and said no, but God later led her to saying yes—a decision she has never regretted.
Now, as president, there is no 'normal' day for Sister Mary Margaret. However, more often than not, she spends time in meetings.
There are many types of meetings Sister attends. Some are with Regina's Board of Directors or are with the President's Cabinet.  These meetings are focused on looking at 'the big picture' and the future vision for Regina Dominican. Sister also meets with donors who support Regina, which is a privilege she loves. Sister especially cherishes getting to thank them personally for the various ways in which they support Regina, and she loves to be able to tell them about the accomplishments of students and teachers made possible by their generosity.
Sister Mary Margaret also attends faculty meetings to learn about the work being done in the classroom and in the various departments. On top of this, Sister attends as many school events as she can, whether they are during the day or after school.
A less frequent role as President includes meeting with members of the Regina community around the country. For example, Sister Mary Margaret just returned from a trip to Arizona where she met with Regina alumnae. Hearing their accomplishments since graduation and getting to share current students' successes is another perk of her job.
Sister Mary Margaret says that her greatest accomplishment as president is "knowing that eight classes of students have successfully completed their studies at Regina Dominican and are entering the next phase of their lives as self-confident young women who have been shaped by the Catholic Dominican college preparatory environment of our school."
Her other accomplishments include the work completed through Vision 2020, especially the Leadership Institute and the recent cafeteria renovation.
Sister Mary Margaret believes that the greatest challenge for the next president will be leading Regina into the future as a vibrant and cutting-edge college preparatory school for young women.
After she leaves, Sister will miss walking in the halls and visiting with  students and teachers.
She says, "I will miss the students of Regina Dominican who are so full of life and promise. I will miss working with the faculty and staff who give so much each day to make Regina Dominican a place of support and quality education, and I will miss the many alumnae and donors who have become my friends throughout the past 8 years."
She has been elected, along with four other Adrian Dominican Sisters, to serve on the General Council of their congregation. For the next six years, she will help the Sisters live out the four enactments they have chosen to focus on. She will be moving to Adrian, Michigan where their Motherhouse, or headquarters, is located.
We are sad to see Sister Mary Margaret go after this school year, but we all wish her the best!