Album Swap with Ms. Gianos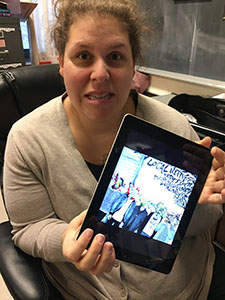 Two music fanatics. Two epic albums. One awesome swap.
I traded my copy of The Local Natives' album "Gorilla Manor" with Ms. Gianos for her copy of Say Anything's album "…Is a Real Boy."
Here is what I thought of "…Is a Real Boy:"
Say Anything is an angst-ridden pop-punk group from the early 2000's. Similar to Jimmy Eat World and Green Day, this band accentuates its extreme love-hate relationship with the world.
Upon my first listen, I realized that I had previously heard the fourteenth track out of twenty. Once I delved into the surrounding tracks, I remembered why I loved that song so much.
While early 2000s punk is not my go-to genre, I get a secret satisfaction from hearing music that highlights foreboding anxieties. Max Bemis, the lead vocalist and guitarist, expresses his wild extremes of self love and self hate.
The album had two main themes: pent-up sexuality and bipolar reflections of the self.
The song "Wow I Can Get Sexual Too" was the catchiest track about the longing for attention. Bemis describes how he looks to his phone and computer for women, but states "I don't know what I want," over and over. The articulated voice Bemis uses when whining or yelling at his subject brings out the emotional element of a good album.
When Bemis' voice quietens, do does the clear electric guitar and heavy cimbals. But, when Bemis expresses deep anger, he screams lyrics such as "I hope to see you write again soon" or "Don't you come near me, don't you come close to me."
My favorite song based on the musical style was "Chia-Like, I Shall Grow." A harsh guitar sat under tight cymbals and a sharp guitar pattern. I also enjoyed the quick pace of "Alive With the Glory of Love."
My favorite song based on the lyrical style was "Most Beautiful Plague" because it created a sense of a broken love. "So let the purple sky explode. Let it shower us with toads. Let the scarlet river flood. So it can drown us all in blood." These lyrics are images to the listeners, which is the sign of great poetry.
In all, I enjoyed this album a lot. Ms. Gianos knows her pop-punk albums very well, and I thank her for sharing with me.
Here is what Ms. Gianos thought of "Gorilla Manor:"
Regina, more commonly known as Trejo, although I call her Regino Treja (which she hates – DO NOT call her that) asked me to exchange an album and review it for "Crown."
When she first approached me, I had no idea what album to pick. I knew she hated country music, which I happen to really enjoy, and she also expressed her dislike for another favorite genre of mine, classic rock. Knowing this, it took me forever to finally figure out what album to exchange, but it did not take her that long. She gave me her favorite album, "Gorilla Manor" by Local Natives.
When I sat down to listen to this album, I did not know what to prepare for, but like any album I am first listening to, my favorite place to listen is in my car. So, I rode around one night listening to the album.
When I listen to music, I am always looking for well written lyrics along with a good beat; I am not a fan of music with the same repetitive phrase or with meaningless lyrics. Knowing this, "Gorilla Manor" passed my first and only test – good beats and some pretty good lyrics.
From a basic internet search and from my personal listening session, it was obvious their single off the album was "Airplanes". It had a solid beat very similar to other artists within the same genre and had lyrics with meaning. My favorite verse, "I bet when I leave my body for the sky, The wait the wait will be worth it" The song took me somewhere and my mind started thinking about other things, which is what a good song should do.
My mind came back when the song, "Cubism Dream" came on. It had the best beat on the album to me. Although the song, "Sun Hands" was by far my favorite song on the album. The beat, the lyrics all my favorite things rolled into one! "I'll endure the night, for the promise of light." It also had that little scream kick that I personally enjoy in this genre.
My biggest critique of the album is it takes so long for most of these songs to start. Do not get me wrong, I love a good musical intro but not every song, especially when the music does not change much from beginning to end.
So while the genre is not my favorite, I would listen to this band and this album if I was trying to relax or just needed some good music playing in the background.
[/infographic]