Album Swap with Ms. Bree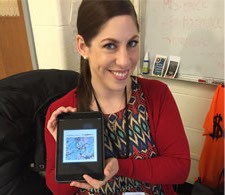 Regina Trejo, Music Editor
February 29, 2016
Two music fanatics. Two epic albums. One awesome swap.
I traded my copy of Wild Nothing's album Nocturne with Ms. Bree for her Steely Dan's album Aja.
Here is what I had to say about Aja:
Steely Dan, made up of Walter Becker and Donald Fagen, can only be described by one word –  funky. This 1970's jazz fusion duo owns the words smooth and groovy.
I had never heard of Steely Dan before Ms. Bree emailed me with the name of the Album Aja, but I was ready to give it a listen. I put the album on for the first time while lying in bed and listened to it in the track listing order.
Actually, I listened to the first track, "Black Cow" and half of the second track, "Aja" ( eight minutes long). After the first nine minutes of listening to Steely Dan, I turned on anything but. I could not stand their lyrics, raspy voices, or incessant use of drum kit cymbals.
I gave myself a few days to revisit the gem called Steely Dan. This time, I listened to the album with headphones on during my study period. I was able to tolerate it that time around.
I fully enjoyed the first track "Black Cow" as I re-listened. The funk bass that opens the album was a good hook. The line "It's over now, drink your big black cow and get out of here" made me happy for some odd reason.
Two other songs that I wholly enjoyed out of the seven songs on the album were "Deacon Blues" and "Peg."
"Deacon Blues" was the third track on the LP and had some great lyrics. The song was very depressing, talking about how the lead singer wants a name for himself when he loses, or dies. He also mentioned death by driving under the influence. Although there were some not-so-happy themes being expressed in the song, one fun part of the song was when the lyrics, "I learn to work the saxophone, I play just what I feel" were sung. I also loved the raw saxophone solo around the four minute mark that extended until almost the five minute mark.
"Peg," the fourth track on the album, started out with a very fast and upbeat rhythm where the high hat cymbal was used in perfect moderation. The saxophone also gave off some mad vibes when paired with the fast electric guitar picking. The thing I loved most about the song was that it was fairly creepy. The men of Steely Dan must have had an overwhelming fascination with a woman named Peg, because they wrote her a song of pure amorousness.
I would recommend this album to people who like to expand their horizons. Listening to the album was something I could not imagine myself doing in my free time. I would not buy the album, but I would give it a try on Spotify or YouTube for sure!
Here is what Ms. Bree had to say about Nocturne:
Reviews of modern music always overuse the word "ethereal," but that's the perfect descriptor for the album Nocturne by Wild Nothing.
From the opening notes, I felt like I was wearing gauzy garments, or gazing out the car window into the rain. It could be a second soundtrack to the film Garden State. It was an astral journey through lovely and desolate soundscapes.
It might sound like I am being facetious, but I'm not. The album makes the listener stop and appreciate what they're hearing; it was a reflective experience. I especially liked the songs "Shadow" and "This Chain Won't Break;" both are effervescent, floaty pieces that, like the other tracks, use minor keys and string instruments to achieve that "dream pop" feeling.
The album closes with "Rheya," a song of longing and regret that is a perfect conclusion. It seems to me that the album should be taken as a whole, rather than picking and choosing songs for a playlist. Each song cooperates with the next to evoke an ongoing emotional experience.
If you're a fan of The Smiths, The Shins, or even The Cure, you'll likely dig these jams. I had never heard of Wild Nothing (I'm old and out of touch with the youth today), but listening to this album elevated an ordinary day into a beautiful one. It's definitely the type of music I would choose myself, and I plan on returning to Nocturne when I need a calming influence (so, while grading papers) or while taking that drive through misty, rain-soaked fields.