Album Swap with Ms. Block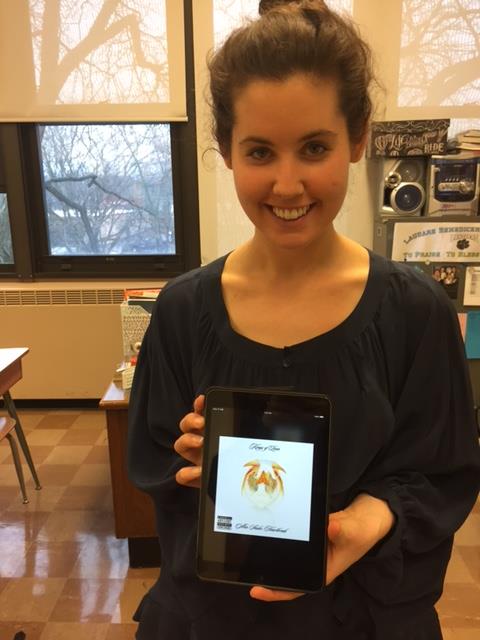 Regina Trejo, Music Editor
March 21, 2016
Two music fanatics. Two epic albums. One awesome swap.
I traded my copy of Kings of Leon's album Aha Shake Heartbreak with Ms. Block for her copy of Taylor Swift's album Red.
Here is what I had to say about Red:
I have never been a big fan of Taylor Swift as I am not a country or pop kind of person. However, I have definitely listened to Swift's music as a teenager during her big releases such as 1989.When Ms. Block said she was going to give me a country album, I figured I would hate it and listen to it with caution. That was not the case with Red by Taylor Swift.
The first song, "State of Grace" was a great rock-influenced opening song.
The next song, the title track, did disappoint me, however. "Red" was a bit too country for my liking, especially with the misplaced slide guitar. It just didn't sound right. The focus on a relationship with a boy, which is a trademark for Taylor, displeased me quite a bit as well.
Three very popular songs are on this album. "22," "Trouble," and "We Are Never Ever Getting Back Together." I fully enjoyed all three of these fun, upbeat, catchy, pop-anthem songs.
The only other song that truly stuck out to me as being a quality song was "Holy Ground." Everything else in the album seemed to mesh together and  have the same theme: losing a boyfriend and writing about the breakup.
I would not buy this album, but I would listen to about five of the songs on YouTube or Spotify. If you enjoy pop music with flares of country mixed in, then Taylor Swift's album Red is definitely for you!
Here is what Ms. Block had to say about Aha Shake Heartbreak:
I was beyond excited when Regina Trejo gave me her album to review. The band Kings of Leon makes me think of many great, nostalgic memories from when I was a teenager!
My girlfriends and I used to drive around in my giant Mercury Mountaineer SUV and listen to CDs like these (people did not have iPhones or Spotify yet, although some girls were starting to use iPods).
I also saw the Kings of Leon at Lollapalooza with my high school boyfriend, and the band is still one of my favorites today.
This album, Aha Shake Heartbreak, came out in 2004 when I was a sophomore at Loyola Academy. The Kings of Leon have many amazing albums, but I was thrilled when I saw I had to review this one, as it is one of my favorites. Another fun fact about the Kings of Leon is that the main singer is married to Victoria's Secret angel, Lily Aldridge. It was so funny listening to this album, and reliving my times from high school.
Here are my thoughts on the actual album:
1. "Slow Night, So Long"-good first song, very upbeat and catchy. Lyrics are about a girl, which seem to be the major lyrical theme of this album.
2. "King of the Rodeo"-my FAVORITE KOL song.
3. "Taper Jean Girl"-also a great song, the lyrics in this song ("Aha Shake") are where the album title comes from.
4. "Pistol of Fire"-definitely my least favorite song.
5. "Milk"-this song is super unique, very slow and mysterious. I like it, but it's definitely not for everyone.
6. "Bucket"-this song has the best introduction, the first 45 seconds are awesome.
7. "Soft"-another weird song, not my favorite.
8. "Razz"-I do not get the lyrics of this song, as they just keep repeating "Razz the kid."
9. "Day Old Blues"-SUCH a pretty song, very emotional. Listen to this if you're in a sad mood.
10. "Four Kicks"-great song, very upbeat.
11. "Velvet Snow"-I like the chorus of this song a lot, although unclear on what velvet snow is?
12. "Rememo"-this song is the last one on the album, it is awesome. It reminds me of something you would play at a creepy, abandoned circus or amusement park.