Album Swap with Mrs. McLawhorn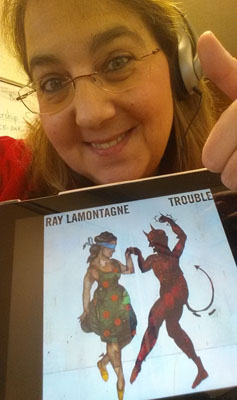 Regina Trejo, Music Editor
January 26, 2016
Two music fanatics. Two epic albums. One awesome swap.
I traded Ray LaMontagne's album Trouble with Mrs. McLawhorn for The Doors' album Morrison Hotel.
I was not the most excited to listen to The Doors' album because my mother LOVES The Doors (what teenager wants to listen to their parents' music?!). I know and enjoy some of their music, but have never been very inclined to listen further. I listen to their popular songs such as "People Are Strange," "Light My Fire," and "L.A. Woman." I also adore British rock from the 1960's, but have never given The Doors a chance. I was able to listen to this album alone and with my mom, which was actually really fun! This album was easy to get into and only took my first time listening to enjoy it.
I was drawn into the album by the first track, "Roadhouse Blues." I am a sucker for blues music and the harmonica, electric guitar, and fast piano satisfied that category and the song's name. The electric guitar, out of all the instruments, is highlighted in this song. In the second track, "Waiting For The Sun," the guitar picks up its aggression with an authoritative tone. The guitar hits high shrill notes accompanied by deep and heavy strums when Jim Morrison sings,
"Waiting for you to come along
Waiting for you to hear my song
Waiting for you to come along
Waiting for you to tell me what went wrong "
The track, "The Spy" also fulfilled the bluesy mood of the album with the repetitious line saying, "I'm a spy in the house of love."
Although this album from 1970 was heavy on blues and rock, there were some hints of  early garage punk sewn into the music. The third track, "You Make Me Real" gave off vibes that The Sonics and Crime mastered along with feelings of deep-seated anger.
My favorite song of the album by far was "Peace Frog" because of the smooth rolling guitar and the funk bass. Although the message of "blood in the streets" can be disturbing in a literal sense, if you analyze that blood as "hatred" or "unjustice," the song is a bit more enjoyable.
My second favorite track was "Land Ho!" I liked it very much as it was super catchy and really fun to dance to, of course!
There were some tracks I did not favor—for instance, "Blue Sunday" and "Indian Summer" do not really fit the 11 song LP. These songs were either a bit too slow or just did not fit the overall mood of the album. However, the last track "Maggie McGill" was fitting of the album because it was a great representation of the previous 8 satisfactory songs.
I recommend that people who like old rock from the 1960's and 1970's or that are interested listen to this album! I would consider buying this album because it is very enjoyable and immersive. Thank you, Mrs. McLawhorn!
Here is what Mrs. McLawhorn had to say about Trouble: 
I started out my listening by just playing this album off of my Spotify on shuffle, but then thought I should listen to the music as the songwriter intended, so I turned off the shuffle and listened to it in order. There is a true art to creating an album, and I wanted to hear it as the composer intended it to be. What I found was that I was being taken on this marvelous journey of fascinating characters and story-lines.
"Trouble " is written in ¾ time, and I find that a good complement to the simple and repetitive lyrics. There is a real groove in the harmonic and rhythmic progressions that makes this song one of my favorites on the album. I'm a huge fan of the "blues," and there is a definite connection here to the bluesy progressions. Ray LaMontagne really uses this song as his "jam" where he shines as a vocalist that evokes powerful emotion.
'Hold you in my arms "—also in ¾ time. I love when songs have a triple feeling to them. The feeling of "3" gives greater importance to the downbeat of each measure and really evokes emotion. I'm also a sucker for some great lyrics, and this song doesn't disappoint. "Love is a poor man's food;" "Don't let your eyes refuse to see, don't let your ears refuse to hear." I could linger on those words as they intertwine with the major to minor progressions within the harmony.
I love the love story behind "Narrow Escape." Lyrically, it is delicately written, with the musical emphasis on the words "Run." The notes seem to yearn for freedom.
The acoustic beginning in "Forever My Friend" is up tempo and feels light and upbeat. It centers on the notion that he can tell something is wrong with his "girl" who is feeling out of sorts. His message to her is that they can work it out together. The lyrics are, "I just think if we keep our hearts together, I just think if we build on this trust that we have for one another, maybe we can make this last a lifetime." On the word "lifetime," he strikes a major chord and it changes the tone of the message, as if the word "lifetime" somehow becomes the ultimate message of the song. Sometimes we are just too quick to throw away a good relationship. Relationships take a lot of work and effort, and I love that part of this song's message.
"How Come" is my absolute favorite from the whole album. I love the uplifting introduction and the groove it has. Although it is uplifting, it has a defiant tone to it as well. I love that the song raises the question, "How Come?" and challenges us to think about social issues. Music should inspire us to explore who we are and what we believe in. The vocal tone quality is more aggressive and gruff, and speaks from a very real place of dissatisfaction with our world today. With the recent events and tragedies in the world, this song portrays the feelings that many of us have about this crazy world we live in. I especially appreciate that he doesn't offer any solution to these problems, rather, he just asks, "How come? I don't understand." We can all relate to that frustration, which is what connects me so strongly to this song.
"Jolene" was one of the most emotionally raw pieces reflecting on self-destructive human nature and how that impacts the people we love. Upon listening to it, you can feel his pain and sorrow. This song truly takes you to another place wrought with raw sentiment and passion.
Overall, I thoroughly enjoyed this album. Ray LaMontagne is a beautiful song writer and composer. I enjoyed the relaxed and laid-back sound of the album as a whole.
I think that the art of listening to an album in its entirety is something we have gotten away from. The album should be seen as an artistic composition in its wholeness. While some songs may be catchier than others or hit your soul like no other – the artist weaves this canvas to express a singular concept. It seems the album concept as an art form is not as prevalent as it was in my teenage years simply because of the times we live in.
I love and appreciate the art form of the "album" and I am grateful that Regina is doing this Album Swap. I would encourage everyone to commit themselves to listening to a full album a few times a year – maybe even once a month. And if you are looking for an album that is well written, both lyrically and musically, you might want to start with this one.