Album Swap with Mr. Finder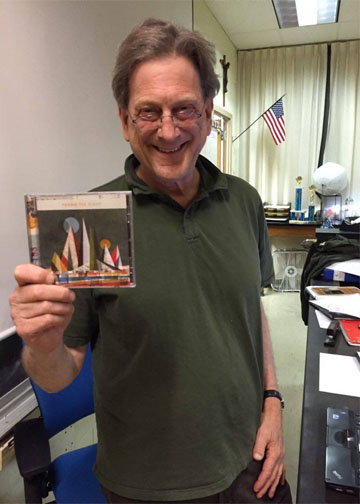 Regina Trejo, Music Editor
May 23, 2016
Two music fanatics. Two epic albums. One awesome swap.
I traded my copy of Young The Giant's album "Young The Giant" with Mr. Finder for his copy of "Golden Opera."
Here is what I thought of Golden Opera:
I was not taken aback too much when I received a CD chalk full of opera music from Mr. Finder. When I listened to the album for the first time, I realized I knew most of the songs from listening to my father's old records.
Songs were selected from all different operas including "Carmen," "The Barber of Seville," "Rigoletto," "Madame Butterfly,"and "Tosca."
Right off the bat, I fell in love with this CD!
The first song "Viens, Mallika…Dôme éspais le jasmin," also called the "Flower Duet," is from "Lakmé." This song takes place while the characters Lakmé and Mallika go picking flowers. It is a popularly used song in movies and advertisements, so almost everyone has heard this song sometime in their life.
The first song is quite relaxing and peaceful. It is followed by the most popular love song from "Carmen," "Habanera." The powerful arias only get more upbeat as the disc goes on. The next song, "Largo al Factotum," sung by the forceful Luciano Pavoratti, is well known for its "Figaro" line.
Again, the album is brought back to a peaceful song with "Soave Sia Il Vento" from Mozart's "Cosi fan tutte" and "Ebben? Ne Andro Lontana" from "La Wally."
The sixth song is my favorite of the compilation album. "Va, pensiero," which translates to "Chorus of the Hebrew Slaves," is from Nabucco, an opera by Guiseppi Verdi.
The next four songs are great works of Guiseppi Verdi's.
After Verdi's works, Puccini's arias and other songs are highlighted. Puccini's greatest work is "O Mio Babbino Caro." This song is the 13 track of the album and one of the most beautiful classical opera songs. The light and beautiful violin and harp behind the soprano voice of Renata Tebaldi make for the perfect aria from a girl to her father. The song is translated as "O My Beloved Father" and characterizes a woman leaving her family due to differences of opinions.
The 16 song, "Alerte, alerte!" caps off the album. This strong trio is a great finale for "Faust" and this CD due to its dependence on heavy percussion and tense strings. Marguerite is being tempted by Mephistopheles, a demon, in this song and is almost taken away by him. Faust saves her and ends the opera, and the song, in peace. Note that the heave percussion and tense strings ease into triumphant chorus and horns.
The classical opera album that Mr. Finder traded with me was fantastic! No matter what kind of music you enjoy, you MUST listen to some of this music.
It is great for a long car ride, doing homework. or just trying to clear your mind. I would definitely buy this album or any song from the CD! Thank you, Mr. Finder.
Here is what Mr. Finder thought of Young The Giant:
I listen to and enjoy almost all forms of music, but sometime in the 1980's, I just lost interest in the new pop music that was being released. There was too much over-produced synthesizer-driven rock, and way too much insipid disco.
I continued to listen to my old favorites: the Beatles, Stones, Hendrix, Dylan, Talking Heads, etc. I also listen to a lot of classical, opera, jazz, folk and blues.
So, when Regina Trejo loaned me the first album of "Young the Giant," I was very curious.
The group formed in 2004 in California, at which time the members were still in high school. They are: Sameer Gadhia on lead vocals, Jacob Tilley and Eric Cannata on guitars, Payam Doostzadeh on bass, and Francois Comtois on drums. They live together in a house in Los Angeles.
This album was recorded in 2010, and all of the tracks were made as if being performed at a live show. It was finally released early in 2011; since then, the group has released a second album, and they are currently working on a third.
This album is pleasant and lots of fun. It features driving rhythms, and strong melodies that are almost reminiscent of early 1970s rock.
The arrangements and production are clean and simple: no big tricks or big effects. The blend of instruments and vocals is traditional rock: heavy on drums, bass and guitar. There is lots of rhythm guitar, broken only occasionally by solo guitar riffs.The drums are prominent throughout, although there are few drum solos.
The lead singer's voice is pleasant and lilting, a little haunting, but his diction is terrible. Either because of the poor diction or the production of the album, I could understand almost none of the lyrics.
My favorite tracks were "Apartment", "God Made Man", and "Guns Out."
The biggest weakness of the album, to me, is that it is somewhat repetitious and monotonous. The lead singer has a very limited expressive range. The songs are very similar to each other in style.
Although tuneful and engaging, the music never takes flight. I was never transported or excited in the way that the best rock and roll can affect me. I don't think the band members were very passionate either. There is a repressed and analytical quality to this music, but I like my rock and roll to be more wild and crazy.