Album Swap with Mr. Apo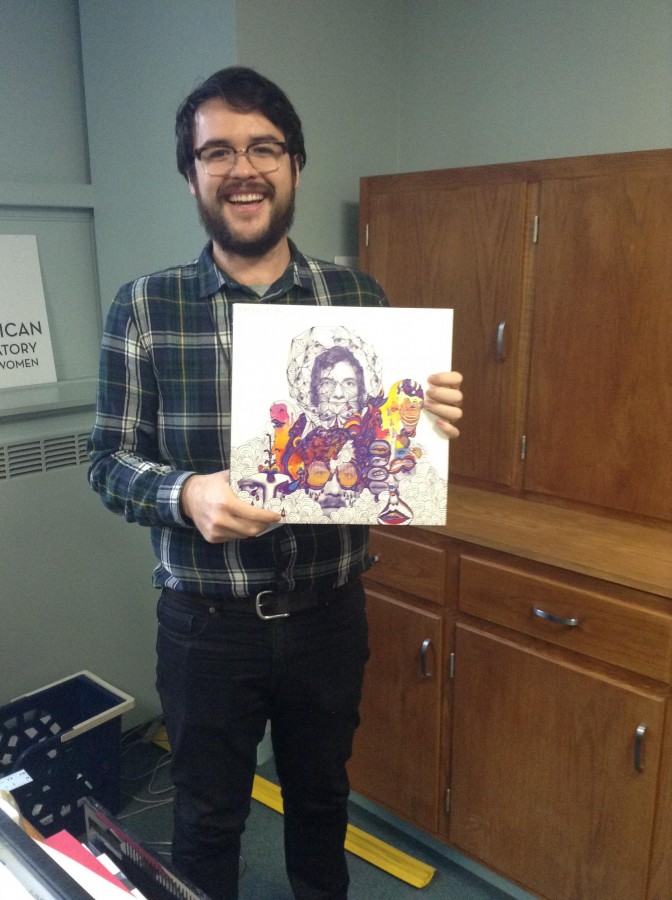 Regina Trejo, Music Editor
December 10, 2015
Two music fanatics. Two epic albums. One awesome swap.
I traded my vinyl copy of Portugal. The Man's album In the Mountain in the Cloud with Mr. Apo for his copy of Sufjan Stevens' album Carrie & Lowell.
I was very excited to listen to Sufjan (Soof-yan) Stevens' newest album after Mr. Apo gave it to me. I know the singer-songwriter's popular songs such as "Chicago" from the album Illinois, but that is about it. Listening to this LP was a great way for me to get back into his music.
It took me multiple listens, about three actually, to really get into the album. The lyrics in his songs are so powerful and intimate that you really have to analyze them, which I really appreciate in music. His lyrics truly come across as poetry. An example of Stevens's poetic lyricism can be found in the song "Fourth of July," when he sings words like,
"The hospital asked should the body be cast
Before I say goodbye, my star in the sky
Such a funny thought to wrap you up in cloth
Do you find it all right, my dragonfly?"
It is easy to tell that the album was about his mother, since she was on the cover art and was mentioned several times throughout the progression of lyrics. In the opening song, "Death with Dignity," he sings,
"I forgive you, mother, I can hear you,
And I long to be near you
But every road leads to an end
Yes, every road leads to an end."
As a fan of "indie" music and pop folk music, I wholeheartedly enjoyed this album. The soft picking patterns and finger styles on the guitar drew me in instantly along with Stevens' ability to hit high notes such as in the songs "Eugene" and "The Only Thing."
I can see myself listening to this album while doing homework, laying in bed, or even making a morning commute to school. It is a very easy listen that is distinct enough to be memorable and catchy.
Although all 11 songs on the LP were delightful, my favorite ended in a tie between two great songs- "Should Have Known Better" and "No Shade in the Shadow of the Cross."
I recommend that everyone listen to this album! Personally, I would buy this album because it is so raw and so beautiful. Thank you, Mr. Apo!
Here is what Mr. Apo had to say about In the Mountain In the Cloud:
While recording "Tomorrow Never Knows" on the Beatles' seventh studio album, Revolver, John Lennon told George Martin he wanted his voice to sound like that of a thousand Tibetan monks crying out from a mountain top. While there isn't exactly that caliber of transcendence in Portugal. The Man's album In the Mountain In the Cloud, there is certainly a good touch of that kind of dreaminess in the sounds of this album and especially in John Gourley's vocal reaching.
When Regina Trejo handed me this record, I was first grabbed by the album art. If you didn't know the band created psychedelic rock before seeing the album cover, you did after—a combination of geometric lines, collaged photographs, and hand-drawn monsters melting into purple waves graced the cover.
I first heard this album the year after I graduated from college, but I never listened to it straight through with any intention of writing a reaction to it. There are some songs that especially stand out for their unique structure and catchy sounds—"Head is a Flame" and "So American" to mention a few.
The real uniqueness of this album comes from the creative instrumentation.
While psychedelic music is commonly associated with hippy drug trips and hallucinatory states, it really comes down to dramatic shifts in mood and tone. I hear that come through on a few of these songs like "Got it All" and "Once Was One," and those are some of the shining moments on the whole album.
All in all, Regina's got great music taste, and if you haven't listened to this album yet, you should take her word for it and give it a listen.