Sugary Dilemma Faces Students At Sugar Factory Outing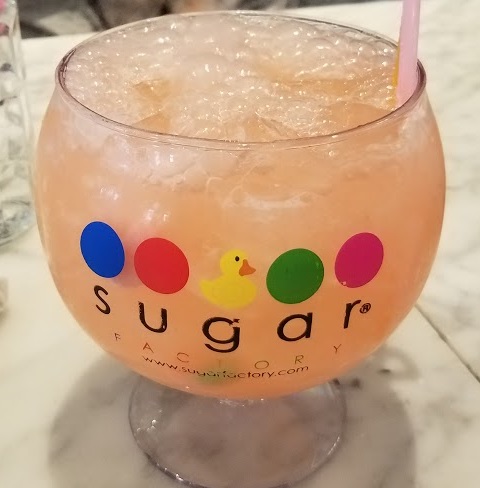 Catherine Patti and Madison Maloney, Staff Reporter
December 4, 2018
Hang on for a minute...we're trying to find some more stories you might like.
Have you ever wondered how to satisfy your sweet tooth? The Sugar Factory, located in Rosemont, is your answer!
Regina Dominican's Grub Club recently visited this trendy restaurant and although their sweet tooth was certainly met, their sugar high quickly dissolved after seeing the bill!
Most of the students who attended the outing were pleased with the food, service, and overall experience. Since the Club made reservations, we were quickly shown our tables with a view of the entire restaurant. The menu was massive and the various concoctions of different candied drinks and milkshakes made ordering a difficult task.
According to several students, the best way to enjoy the food was to split a drink or an entree. The drink of choice for our group was either the Ocean Blue Goblet or one of classic milshakes.
Different entrees were ordered with several groups splitting the fettuccine pasta. One order of chicken, according to a senior, wasn't cold and tasteless. However, the pizza bread appetizer was hot,  cheesy and tasty.
After a pleasant time stuffing faces with candy, ice cream and pasta, the bill arrived. With 20 of us paying, the bill came at a whopping $400 price-tag!! Students felt overall pleased with the food, but not with the pricing. With the tip, many students had to pay almost double their meal!
One student angrily exclaimed, "… the price was outrageous!"  
Another student, passionately said, "The food was pretty good, but the price was not worth it. I might go back, just not regularly."
One student, splitting a pasta and drink, ended up paying $30! Students thought that going there in smaller parties would probably be the better to go because it would drastically lower the tip.
Overall, students felt the food and service was good, but the restaurant was overpriced.
Hang on for a minute...we're trying to find some more stories you might like.