A Glimpse Into The Top 2021/2022 Winter Fashion Trends
Winter is approaching quickly, and it's time to revamp our closets for the upcoming winter fashion trends. After reviewing the FW21 Runway Collection, the top ten cold-weather fashion trends have been made.
Starting strong, all-in-one fashion has hit the runways with a bang. Layering infamous catsuit styles have created a new frenzy of inspiration, as seen from Prada, Rick Owens, and more at the 2021 FW. These eye-catching pieces lay a foundation for your winter ensembles with a creative, intriguing finish.
Cut-outs made an appearance during the 2021 spring/summer collection, and they've decided to stick around – but with a warm, winter twist. The classic long-sleeve dresses and tops have new creative slits around the waist, hips, and shoulders. The new stylish, cozy twist is perfect for keeping your favorite spring/summer trend innovative for this new season. This new clever twist has was shown on the runway at Mugler, Michael Kors, Dion Lee, and more.
A classic winter staple, fur, has made its way back to the runway according to the FW21 Collection. Luxurious designs accompanied by different variations and colors of fur is just what this cold-weather season needs. From oversized jackets to tiny bags, fur is the new necessity.
The glistening star of the runway, high-shine, has made itself at home in this seasons trends. From reflective dresses and trench coats to shining leather sets, this trend brightens up the dull, gray weather of winter. Exciting metallics, glimmering fabrics, shining leather, and smooth latex bring a new sense of inspiration.
As seen on the infamous Kanye West, incognito mode is the new power move. Sometimes going under the radar is just what we need, and pieces such as the stylish trench coat partnered with baseball caps and headscarves are the perfect recipe. Designers such as Dior, Celine, and Ami have made this mysteriously fashionable look accessible with their tasteful additions.
Stimulating patterns have taken the world by storm since the summer '21 style, and now there's a new pattern heading our way. The textured print covered with calming waves, Moirè, has been featured continuously in the FW21 Collection. Tom Ford, Marine Serre, and more have showcased how they would style this appeasing pattern and have laid the foundation for the rest of the industry. Blazers, dresses, and even puffer coats have been designed with this versatile pattern.
It's the time of year again for the classic knit pieces to come back into our lives. These chic sweaters are in motion ranging from oversized to form-fitting. The accessories that go along perfectly, such as knit scarves, have been showcased together from Ganni, The Row, and more. Knitwear isn't just limited to sweaters and scarves; dresses and pants are also the perfect stylish pieces to get us through the cold weather. These classic staples are timeless and perfect for this season and many more to come.
Winter accessories have always been a necessity, ranging from hats to gloves, but we want them all in one outfit this season. Bundling up in stylish, warm accessories have never gone out of style, but now the more, the merrier. As seen on the runway during FW21, scarves, gloves, boots, and hats are what we need to elevate our fashion game.
After looking at all of the electrifying, cozy cold-weather styles, it's time to begin the preparations for this season. These stylish trends are all we need this season to look our best!
Leave a Comment
About the Contributor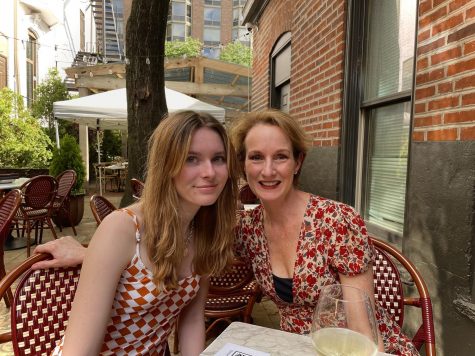 Katie Buchanan, Staff Reporter
Katie Buchanan is in the class of 2023 at Regina Dominican. She loves designing and sewing her fashion sketches to see them worn by family and friends....