A Chicago-Style Thanksgiving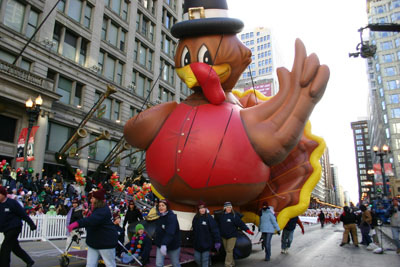 Regina Trejo, Staff Reporter
November 1, 2015
There are so many things to do this Thanksgiving other than just eating turkey and pumpkin pie! Check out some of these events in and around Chicago this holiday season.
The first event is the Magnificent Mile Lights Festival on November 21. It starts with family activities in the afternoon at Pioneer Court. The festival then continues with a tree-lighting parade from 5:30 p.m. to 7:00 p.m. The parade then extends down Michigan Avenue, where the lights continue to be turned on. The festival ends with fireworks over the Chicago River at 6:55 p.m. There is a stage with music and many activities to do throughout the day. If you cannot go downtown to the event, you can still watch the parade on ABC7. This event is totally free and gets everyone into the holiday spirit!
Another fun holiday event is on November 24 from 4:30 p.m. to 5:00 p.m. This event is the Christmas Tree Lighting at Daley Plaza. The Mayor lights up the huge Christmas tree in the center of the plaza where everyone can come for free to watch. There will be music and the opportunity to meet Santa.
On Thanksgiving day,  November 26, there are a few events going on. One of these events is the iconic McDonald's Thanksgiving Parade. This parade has giant balloons, floats, marching bands, dance troops, and much more! The parade starts 8 a.m. and ends at 11 a.m. and from Chicago to Randolph. Once again, if you  cannot go downtown to the parade, you can still watch it on WGN9. The best part of this event is that it is totally free!
The Morton Arboretum is free on Thanksgiving. The Arboretum is located in Lisle, Illinois and is open from 7 a.m. until sunset. All buildings, except bathrooms, will be closed. Only the outdoor grounds will be open for visitors.
The last event on Thanksgiving is the Turkey Day Run Chicago. This run includes a 5K, 8K, and a kids run with games. It takes place in Lincoln Park. This year is the 38th annual run and all are invited to join in the fun! There will also be a tailgate zone with football, bags, bowling, and more.
After thanksgiving there are two more runs. One is the Grant Park Turkey Trot  5k and kids run on November 28th. The other run is the Schaumburg Turkey Trot which includes a half marathon and 5K on November 28th.
There is so much to do throughout Chicago this November, so go out and enjoy all these events!