5…6…7…8, Regina's New P.E. Teacher is So Great
Regina Welcomes Ekaterina Lyons
With all of the new faces roaming the halls, Regina shines a spotlight on the new physical education and health teacher, Ms. Ekaterina Lyons, who is also the new Assistant Director of Orchesis.
Lyons grew up as an only child in Crystal Lake, Illinois were she filled her days with soccer, swimming, horseback riding, track, volleyball, and dance. While she grew up as an only child, she always had a friend because there was a kid in every house on her street. Ms. Lyons has been growing her passion for dance ever since she was three years old and began classes at the age of six at Judith Svalander School of Ballet. Her favorite performance to put on each year was The Nutcracker, where she worked her way up from "a caroler" to "Clara" by the time she was a teenager. High school is when Lyons said she truly found her passion for dance.
"It was so fun dancing in The Nutcracker and performing all of these roles each year with my best friends. And it was super rewarding seeing all of our hard work come alive on stage." Lyons said.
Another way Ms. Lyons grew her passion for dance was through a teacher training program during her middle school years. She would assist the teacher with daily tasks, such as warm ups, attendance, demonstrations, and helping with pointe shoes, during dance class. By her senior year of high school, she was teaching two of her own classes. Eventually, she had to make the tough decision of whether she was going to dance professionally or go the route of teaching. In order to continue dance, but at a less intense level, she chose to teach.
Ms. Lyons attended Illinois State University where she majored in dance education. Her major led her to frequent the gym where she discovered her growing infatuation for fitness and how it benefited her dancing. In order to combine her two passions she added a physical education minor to her study course. Her career goal was to teach dance or P.E. at a high school.
With Ms. V also being ISU alum, Ms. Lyons reached out when she heard about a job opening.
"Growing up Catholic, faith has been a huge part of my life and I am super happy to be able to share my faith, along with my love of dance and fitness with the Regina community! I have felt so welcome already by students and staff. I am really enjoying my time here!" said Lyons.
Outside of Regina, Ms. Lyons loves to watch HGTV and apply what she learns to the process of decorating her new house. She also enjoys paddle boarding on Lake Michigan with her husband.
Leave a Comment
About the Contributor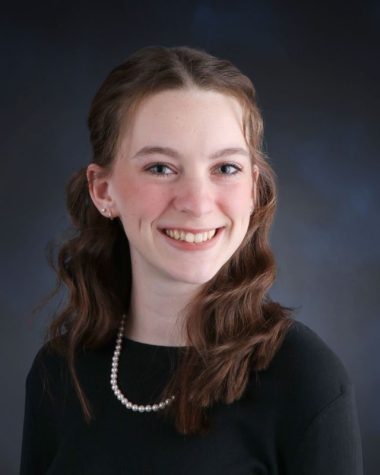 Josette LaFramboise, Staff Reporter
Josette LaFramboise is a senior at Regina Dominican. She is a staff reporter for The Crown. She plans to write about Regina news and new movies. When she...