Leadership Series Invites Panel to Discuss Travel Ban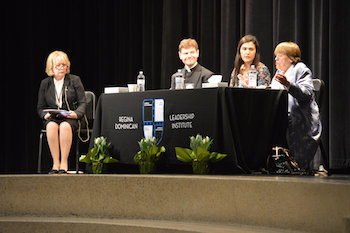 On Tuesday, Feb .21, Regina Dominican welcomed three experts to Regina Dominican's O'Shaugnessy Auditorium stage. Fr. Peter Wojcik, Noor Abdelfattah '16, and Ann Lousim were invited to discuss President Trump's recent executive order on banning immigration from a variety of countries. This global issue raised many questions and concerns for Regina students.
The panel provided insight and  knowledge on the history of executive orders and the relationship to the current travel bans. The seminar hosted by the Leadership Institute centered around not only informing students but teaching them how to engage in a civil discourse.
The seminar began with Ann Lousim, a professor at John Marshall Law School, explaining to the audience what an executive order is. By definition, she said that an executive order is not a bill, but a pronouncement issued by a Chief Executive.
In this case, the Chief Executive is President Donald Trump. Although the President has substantial authority, the executive order can be turned down by Congress, and in some cases, Congress may even take the President to court. Ideally,  Congress is asked to back up the executive order with some sort of statue.
Professor Lousim shared that most often executive orders are issued in times of crisis and are nothing new to the United States government. President Franklin Roosevelt issued several executive orders during the great depression which were all upheld by Congress.
One of the most well-known executive order was  issued by Roosevelt. This order relocated Japanese Americans to relocation camps during WWII. Although America now regret that order and recognizes as unnecessary, it was backed up by Congress and considered necessary at the time of crisis in America.  Examples like these from our own history causes people to be apprehensive of current orders such as the travel ban. After all, the point of history is to learn and it is important that people do not repeat the mistakes of the past.
Professor Lousim discussed in detail the current executive order. For starters, the original order issued by Trump temporarily prevented citizens of Iran, Iraq, Libya, Somalia, Syria, Sudan and Yemen from entering the United States for 90 days, banned refugees for 120 days and put an indefinite halt on the entrance of Syrian refugees to the United States. In January, a federal judge in Washington state blocked the government from carrying out the ban. The 9th U.S. Circuit Court of Appeals upheld that decision.
Much controversy is related to the list of countries found on the ban list that the Obama Administration originally labeled as countries of concern. Primarily the executive order is an attempt to protect the country against terrorism, however, there is gray area as to who of immigrants trying to come into the country may be a terrorist or a helpless and needing refugee. Also, not all terrorists who have committed crimes have come from the prescribed seven countries.
This is where controversy over the list of banned countries comes into play. According to Lousim, the typical profile of a terrorist is typically an unmarried, Muslim man; yet, there are many instances of terrorism that have been committed by those who do not fit this criteria, which furthers the question as to "who is a terrorist and where do they come from?"
Wisely, Professor Ann Lousim encouraged students and faculty to refrain from forming a solid opinion until actually reading the revised ban that Trump will release soon. Lousim also shared her disagreement with calling the travel ban a Muslim ban as there is not clear evidence that the ban is motivated by prejudice.
Fr. Peter  shared the Catholic Church's position on the Travel Ban. He began his discussion by asking the audience to raise their hands if they themselves, their parents, grandparents or great grandparents were immigrants. To no surprise, most, if not all of the audience raised their hands. As anyone who has ever picked up a history book should know, America was built on a foundation of immigrants.
Fr. Peter made sure to point out that the issue is  extremely complex. He explained that through a social justice stand-point, there are approximately 65 million people without homes (refugees). He underscored the stance that it is the Catholic Church's duty to speak out on behalf of the vulnerable, and, as Catholics, we must help the less fortunate.
Fr. Peter also mentioned Pope Francis and his statement that "we must not repeat the sins of the past." Fr. Peter preached that every nation has the privilege to defend their borders, but they must do it justly. Because after all, as Fr. Peter so kindly put it, "if we do not give to those in need who don't have a just society."
Noor Abdelfattah, a Regina Dominican graduate and daughter of Muslim immigrants offered her thoughts of dealing with the Travel Ban issue through a psychological viewpoint. Abdelfattah is currently a sophomore at Loyola University studying psychology.
Overall, the panel provided informative insight into a timely issue on many minds. Since a section of the Regina Dominican leadership model incorporates global citizenship, it is important that students learn and understand  not only the facts, but  how to respond justly to issues within our society.  As teenagers, it is easy to get caught up in the political "facts" we read and hear about through social media and unreliable internet sources.
The panel made it clear that as global citizens, there is a need to seek out the truth and form opinions. What is essentially important is making it a point to listen, learn, and understand others opinions, too. But, most importantly, when it comes time to discuss,  to do so in a kind, respectful, and responsible way.