What's On Your Halloween Watchlist?
With Halloween just around the corner, you may be looking for the perfect way to get in the holiday spirt. A classic Halloween movie is the perfect way to do just that. Depending on what type of thrill you are looking for, here are some of the top Halloween movies that will be sure to leave you with the spooks. So, cozy up on the couch and grab your favorite Halloween snack for the ultimate fright night…or just some old fashioned holiday fun…if you dare!
Hocus Pocus (1993)
You can't go wrong with this Disney Halloween movie. The family friendly comedy follows the story of three Salem Massachusetts witches who were resurrected just in time for Halloween. Watch out! They're out for revenge! This classic filled with chatty black cats and goofy witches will make for a great family movie night. I would rate Hocus Pocus 9/10 ghosts. 👻👻👻👻👻👻👻👻👻
It's the Great Pumpkin, Charlie Brown (1966)

A classic animation the whole family can enjoy. Snoopy and the gang have been putting families into the Halloween spirt for the past 55 years. This may even make everyone in the family want to go trick-or-treating. I would rate this animation 10/10 ghosts. 👻👻👻👻👻👻👻👻👻👻
The Nightmare Before Christmas (1993)
It's up for debate whether this classic falls into the Halloween or Christmas category but either way it has the power to be a family favorite. The film follows Halloweentown's pumpkin king, Jack Skellington, who has become bored with scaring people in the "real world." The movie was made with stop motion, which adds to the eeriness of the film. If you are not a fan of musicals then this movie is not for you, since, as most Disney movies do, there are multiple moments when the characters burst into song. I would rate this movie 7/10 ghosts. 👻👻👻👻👻👻👻
Ghostbusters (1984)
A family comedy fun for all ages. This movie follows a team of scientists who decide to become "ghostbusters" for money after losing their jobs. Look out for the jingle as you may not be able to get it out of your head after watching.  I would rate this comedy a 8/10 ghosts. 👻👻👻👻👻👻👻👻
Halloween (1978)
The first in the Halloween franchise introduces viewers to serial killer Michael Myers as he stalks the innocent residents of Haddonfield, Illinois. This is a classic horror movie for the Halloween season, as the name implies, and I would not recommend it if you don't want to watch something that may keep you up at night. If you are looking for a thrill, this is the perfect movie for you.  Personally, I am not the biggest fan of horor movies so I would rate this movie 5/10 ghosts. 👻👻👻👻👻
Leave a Comment
About the Contributor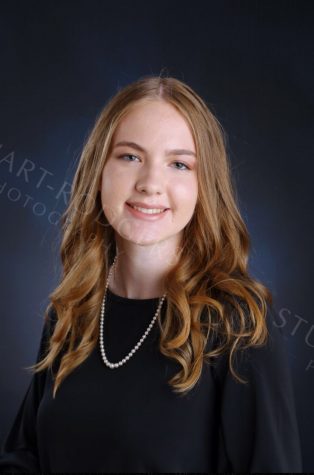 Catherine Patti, Staff Reporter
Catherine Patti is a senior at Regina. This is Catherine's first year writing for "Crown." At Regina, Catherine is involved in many different leadership...