Six Regina Dominican Students Selected as Hugh O'Brian Leadership Scholars
Six Regina students were recently selected to attend the Hugh O'Brian Youth Leadership Seminar. Founded in 1958 as a nonprofit organization, Hugh O'Brian Youth Leadership (HOBY) strives to inspire a global dedication to leadership, service, and innovation. 
According to The Washington Post, Hugh O'Brian founded his organization based on this belief: "The most important thing in education is to teach young people to think for themselves."
These words were spoken to O'Brian by Nobel Peace Prize winner Dr. Albert Schweitzer, when the two spent a week together in Africa. With a resolve to turn these words into reality, O'Brian returned to America and founded Hugh O'Brian Youth Leadership in 1958. Since then, over 500,000 high school students—from 28 different countries—have attended HOBY seminars. The seminars last 3 to 4 days, and are lead by notable adult leaders in business, education, and government. Through interacting with experienced leaders and participating in group activities, students are encouraged to develop their own unique leadership skills.
The six Regina Dominican students who attended this year's HOBY seminar were selected based on essays they submitted regarding the value of leadership in their own lives. Although the event was held virtually this year, Regina students argue that they were able to have a very meaningful and engaging experience.
Junior McKenzie Johnson states, "We discussed social responsibility and ways to enact change in our communities. We learned more ways to become a leader and to develop the correct skills needed."
The seminar also incorporated challenging group activities in order to further engage students. Junior Tamia Quach describes an activity in which students worked together to create the tallest marshmallow tower.
Quach says, "We were all assigned a group, and we had to discuss how we should make the tower taller by factoring in the stability of the structure. There were many different views and lots of agreement throughout the activity."
Describing the other students who attended the HOBY seminar, Quach states, "They wanted to hear what I had to say on certain topics and they wanted me to engage with them. They were very nice, open-minded people."
McKenzie Johnson echoes similar ideas, stating, "My HOBY group still connects with each other today. I loved the experience and I would do it all over again."
In addition to Tamia Quach and McKenzie Johnson, four other Regina juniors attended the HOBY seminar: Emily Chavez, Kirka Kallioras, Ellie Lorraine, and Catherine Patti.
As the Regina Dominican Leadership Institute website says, "Leadership can most simply be defined as enabling yourself and others to do good." The Regina community celebrates its Hugh O'Brian Scholars—and its student body as a whole—for exemplifying what it means to be a leader and enabling one another to do good each day.
About the Contributor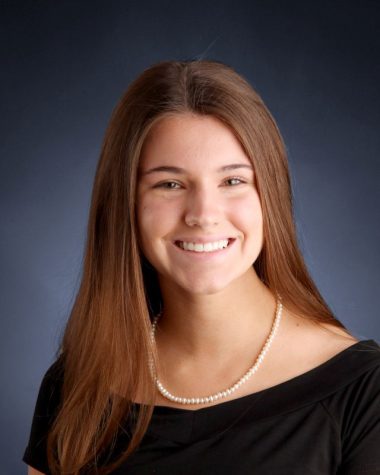 Michelle Glennon, Staff Reporter
Michelle Glennon has just recently started writing for the Crown and is involved in both Peer Leading and Spanish Club at Regina.

Outside of school,...