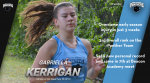 Regina Dominican Cross Country runner Gabriella Kerrigan has been named the Athlete of the Week for the Week of September 28-October 3rd.  Gabriella was nominated by her coach, Scott Bohlke.  She overcame an early season injury to stake her claim as the #3 runner for Regina Dominican.
At her last meet, Gabriella established a new personal best and finished 7th overall.
We were able to catch up with Gabriella for a quick interview.
BM: Congrats on being named the Athlete of the Week You were chosen because overcame an early season injury and your tireless work ethic.
How does it feel to be the athlete of the week?
GK:: It is very exciting and I feel very proud of myself and thankful for a team that values me.
BM: You were a member of the Volleyball team last year, but were able to run Cross Country due to Volleyball being moved to the spring.  How are the sports similar?  How are they different?
GK: I don't find them to be similar at all, actually. One is indoor, one outdoor; and one is based in cardio, the other muscular strength and endurance. But, even though cross country is a solo sport, I found it still has the community feel I loved from my volleyball team.
BM: Do you like practices or the competitions better?
GK: I like practices more. The competitions are very nerve-wracking!
BM: Do you have a favorite running shoe?
GK: No not really, I am not a very experienced runner so the ones I wear are what is comfortable for me!
BM:  What else are you involved with at Regina Dominican?
GK: I am in the Sophomore Class Leadership Board, Leadership Scholars, Mathletes, Alliance Club, and Erika's Lighthouse!
BM: Ok, some rapid fire questions:
GK: Hills or flat ground? HILLS
GK: Favorite sports movie? A league of their own!
GK: Favorite state? Massachusetts
GK: Favorite class? History!
BM: Congratulations and best of luck as you continue your season!
GK: Thank you!