Athlete of the Week: 10/19/2020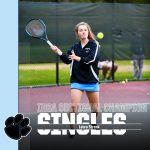 Regina Dominican senior tennis player Laura Strenk has been named Athlete of the Week for the Week of October 19-24.  Strenk won the IHSA Tennis Sectional, which took place on October 6th and 17th at Vernon Hills High School.
Strenk was the number 1 seed in the tournament.  She received a bye to open the tournament.  On Saturday in the semi-finals, Strenk beat Alex Monroe from Carmel 6-4, 6-0, while in the finals, Strenk defeated Sofia Coury, also from Carmel, 3-6, 6-2, 6-1 to claim the championship.
Congratulations Laura on an outstanding season!