Regina Students Learn Guitar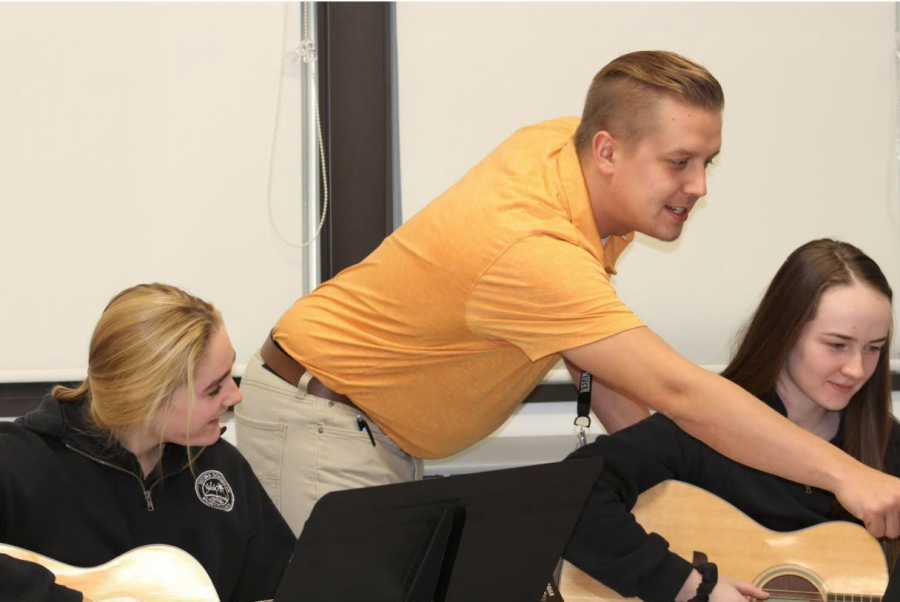 Abbey Farmer, Contributing Staff Writer
February 6, 2020
During the first semester, seven Regina students took Mr.Pligge's guitar class. The girls, ranging from all grade levels, learned the basics of guitar. Some of which included, reading music, note fingerings, and chords. 
Also, the students learned more advanced aspects of playing the guitar as well. For example, they learned how to play "Blackbird" by the Beatles. The song consists of complex strumming patterns and rhythms that are not easy to learn especially for beginners. 
Junior Kathryn McDarrah says, "Even though it was hard, I enjoyed playing Blackbird because it is one of my favorite Beatles songs." 
After many classes of practice, practice, practice, the students performed "Blackbird" at the annual Christmas Concert. Alongside "Blackbird", the girls also learned 4 additional Christmas songs to perform. Those included classics such as: "Jolly Old Saint Nicholas,"" Auld Lang Syne,"  "In the Bleak Midwinter" and "Away in a Manger."
To perform the songs, the girls were divided into separate groups—melody and chords. Melody included playing the individual notes of the song, while chords strummed in the background. The two together made for a beautiful pairing. 
Mrs. Houston, who went to watch the concert, said, "The girls playing "Away in a Manger " together sounded so beautiful and lovely that it gave me goosebumps." 
The hard work and dedication of learning a new instrument paid off for the girls. It allowed them to collect a set of skills they can continue to use throughout their life. 
Guitar student  Isabella Nunez '22, said, "not only did the class help me develop a passion for guitar, but it helped me build confidence." 
Although the class is a fall semester class only, music teacher, Mr. Pligge said he, "hopes to be able to continue to expand the musical knowledge of all students who take the class and maybe eventually start a guitar ensemble" for next year. 
Guitar class is offered as an elective for all grade levels—and, as a former student of the class, I highly recommend taking it!