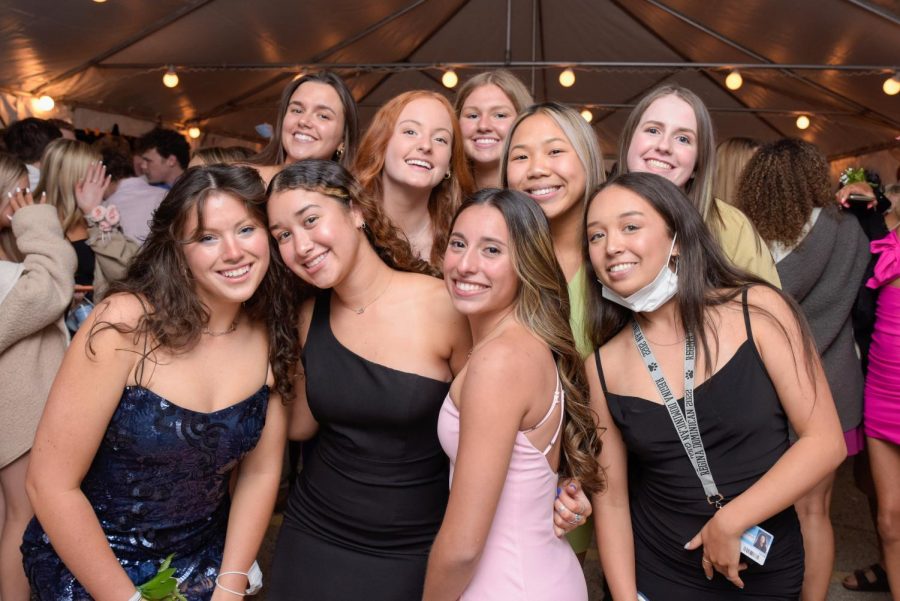 After a year of quarantining and uncertainty, Homecoming has returned to Regina Dominican! This year's "Pumpkin Palooza" was a great success. The evening welcomed back one of the students most missed activities: school dances. On Saturday, October 16, students from each grade level came together with their guests to celebrate the return.
Homecoming was back, but it looked just a little different than previous years. The cafeteria has been the destination for homecoming for years now, but this year, due to safety precautions taken to prevent the spread of COVID, a tent stood in front of the auditorium entrance to house the students. The tent was enclosed and heaters were provided to make sure the students were not freezing from the cold October weather. Fall decor and lights decorated the tent creating a festive and fun dance environment. Food and drinks were also still provided, where students enjoyed Jimmy John's sandwiches with rice crispy treats for dessert. Yum!
Despite these changes, some things still stayed the same. Just as they did in previous years, students were allowed to bring guests from different schools. Students dressed to the nines, with the exception of a few flannels to fit the "Pumpkin Palooza" theme. The music ranged from Pitbull's "Feel This Moment" to "Dancing Queen" by ABBA. Together everyone danced and partied until the end of the dance at 9:00 pm. Even though it was not the traditional Homecoming, everyone still had just as much fun regardless of the weather or where the dance was held.
Many Regina students expressed their feelings towards the return of Homecoming. Margaret Boysen '23 said, "I had a fun time at the dance with my friends, I'm so glad we are able to start having events like this again!"
The new layout was also admired by Layla Hajdarovic, '23, who said, "I like that it was outside so we didn't have to wear masks, and I think that everything was well organized"
Everyone who attended gave Homecoming 2021 a big paws up!