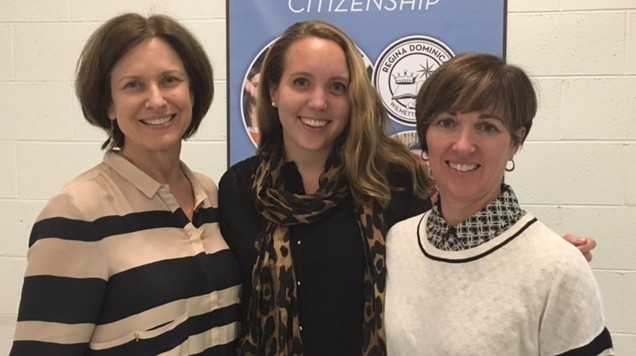 Have you ever wondered what's going on in the corner of the third floor by the language department? Who are even in those offices, and why are so many girls going in there all the time?
Wonder no longer—the third floor offices house Regina Dominican's Advancement Team.  The Advancement team is comprised of Joan Kitchie '77, Diane Garvey, Peggy McNulty '79, and Kristine Reilly '09. Together they make up one of the most fun and lively spaces in the school — and not to mention, they always have free candy.
There is so much to learn about and from these women, and how they contribute in making Regina the unique place that it is. (The marketing and admissions teams also fall under the Advancement umbrella, but for the purposes of this article, I will be focusing on the third floor team, listed alphabetically.)
Diane Garvey, Director of Alumni Relations
Have you seen some of the fun facts about Regina's alumni on Facebook, or maybe you have seen alumni walking the Regina hallways? These are a just a few of the things that Mrs. Garvey coordinates as the Director of Alumni Relations.
Mrs. Garvey, mother of Amy '06, is in charge of maintaining and developing programs that engage Regina's expansive alumni network of over ____ women. Regina girls are some of the world's most unique people, and Mrs. Garvey is in charge of bringing them together after they graduate with events such as reunions, the alumni mass, and alumni association functions.
She also spends a lot of time networking with alumni in order to garner their financial support.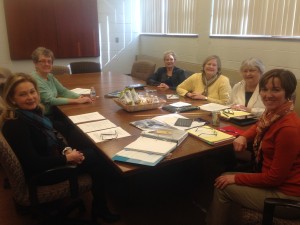 Garvey says, "Often tuition doesn't cover every expense at this school, especially for new, unique programs."
In these situations, often Mrs. Garvey tries to raise money to help fund exciting programs at Regina such as the new STEAM Lab.
On a day to day basis, Mrs. Garvey is often working with alumni by phone, email, and social media, answering questions and coordinating upcoming alumni events alongside her coworkers.
Garvey says her favorite part of her job is meeting alumni, learning about what they're doing, and hearing about stories from when they attended Regina.
She states, "Friendships made at Regina truly last. The bonds forged at Regina are not the same as other high schools, and I love working with alumni who have come from this unique environment."
Joan Kitchie '77, Vice President of Advancement
Mrs. Kitchie has long been a part of the Regina tradition—she is the fourth of six girls in her family to attend the school, she is the mother of Laura '08, and she was a member of Regina's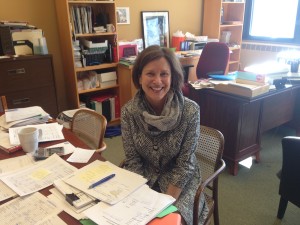 Board of Directors before starting her work as the Vice President of Advancement. Now, Mrs. Kitchie is responsible for helping to further the mission of Regina Dominican with the help of donors, alums, and current parents. She connects with those groups, and is in charge of raising money for education and other programs at Regina.
Mrs. Kitchie never has a typical day. It is often a combination of meeting with various members of the school community for various advancement purpose, talking on the phone to donors, working with many grant and scholarship foundations, and working with her excellent advancement team.
No matter what she is working on, Mrs. Kitchie strives to create an atmosphere of joy in the school.
She says, "I want every student and faculty member to wake up and want to go to school, and I want the money that comes in to support that."
In addition to this mission, one of her favorite parts of her job is spending time every day in a building with 300 women. Mrs. Kitchie is an avid fan of girl power and women's leadership, especially at Regina.
She states, "Every day, I love spreading the message of Regina to people that don't understand the transformation that takes place here."
Fun fact: Mrs. Kitchie also LOVES to sing the Regina Dominican fight song.
Peggy McNulty '79, Annual Fund Director
Originally the Database Coordinator, Mrs. McNulty, mother of Kerrigan '98, is now the Annual Fund Director. Her job involves appealing to alumni for donations, writing every donor a note of appreciation, and managing Regina's database of alumni and school information.
On a day to day basis, Mrs. McNulty looks for fun facts in the Regina database that will engage and excite alumni, updates alumni information in the database, and manages any incoming donations. She also works together with the whole advancement team on any upcoming events, and she emphasizes the fact that they truly are a team that works together.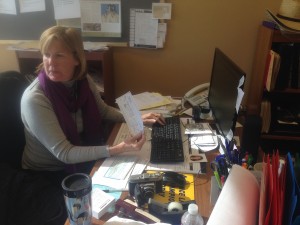 One of her favorite parts of her job is being able to tell individual departments and faculty members that they received donations because alumni sent funds for them specifically as a result of their great experience in that aspect of Regina. She also enjoys when she talks to alumni and donors about their experiences with Regina.
She says, "One of the best parts about my job is connecting with donors and realizing the impact Regina has made on their lives."
Kristine Reilly '09, Special Events Administrative Coordinator
Ms. Reilly is one of Regina's freshest faces in the Advancement Office. She started this year as the Special Events Coordinator, which involves planning all of Regina's biggest events like the Black and White Dinner, Student Raffle, President's Liturgy, and various luncheons throughout the year.
On a daily basis, she has many responsibilities depending on the events that she is planning.
She says, "It's usually a range of strategizing event details, communicating with our vendors and volunteers, managing our event database that tracks RSVPs, auction donations, event sponsorships, and our fundraising success."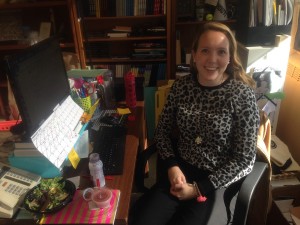 Overall, she is in charge of quite a lot, and her job is very important to the Regina community. As a result of the funds raised at events she plans, more students are able to attend Regina on scholarships, and the school is able to develop more academic and extracurricular programs. Her hard work also contributed to making the Panther Patio this year along with the hard work of all of the students and faculty.
As a recent alum, Ms. Reilly is also really loves to make a difference at the school.
She says, "I am a Regina grad, so I am passionate about the traditions and culture that make Regina unique. Continuing to create opportunities to make a real difference so that students can be true leaders is one of the best Regina attributes, and one that is essential as we move forward."
Overall, this team is essential to our school's everyday life with all of the important work that they do. They are also some of the most fun, genuine, and caring faculty members at Regina! Stop in to say hi to them– they'd love to talk to you!