Softball Swings for Success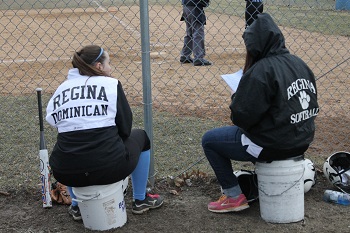 Hannah Wavrek, Sports Editor
March 23, 2016
With a variety of talent and 3 seniors, Regina Dominican's varsity softball season is positioned to go far in their 2016 season.
Tryouts were limited to only one day, and then girls were divided into junior varsity and varsity teams. The teams were picked based on individual skill levels on throwing, hitting, and fielding ability.
Leading the way are captains Karlyn Manley '16, Emily Herberg '16, Lauren Murphy '17, and Meghan Joyce '18. They lead the team by example in practice, games, leadership, and spirit.
Practice typically consists of throwing, fielding, and A LOT of hitting. The team practices at Strikezone and a field in Techny.
A lot of girls have  played softball prior to Regina, so they have experience and are comfortable in positions. However, if a player is unsure on what position they want to play, they can move around until they find the spot that is right for them.
Senior captain Karlyn Manley has high hopes for this season. She says, "The girls on the team click really well and know how to play together. I think we're going to put up a good fight against harder teams".
Good luck with the season Panthers! We will all be cheering you on!