Regina Basketball Gets A Fresh Start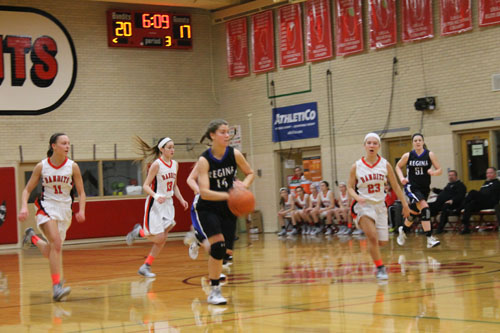 Regina Trejo, Music Editor
December 10, 2015
Hang on for a minute...we're trying to find some more stories you might like.
The Regina Dominican Varsity basketball team is ready for a new season. The team, though stacked with 12 girls, only has two returning players from the 2014-2015 varsity season.
The two returning players are Colleen Palmer '17 and Regina Trejo '17. The two juniors are joined by three other juniors, Claire Beiter, Mary Brikha, and Lauren Murphy, as the leaders of the squad. Colleen Palmer noted that it is very nice to get to play with girls she has not played with in the past, but it will be a bit of a challenge to get used to the new team.
Three freshmen, Kaitlin Byrne '19, Mary Grace Stanton '19, and Caitlin Ward '19, have been added to the roster of 12. The rest of the team is made up of sophomores, most of which have had experience in high school basketball.
Palmer said, "Because we are a young team, it will take some time to get used to the fast-paced varsity games."
She also added that the key to the team's success will be teamwork. Palmer, as a captain, had to step up from her role last year. She is now assuming a leadership position on the team and taking charge as a helpful and more experienced teammate.
Head coach, Kerry Durham '85, is excited for the 2015-2016 season. Durham is looking forward to the energy that ten new faces will bring to the basketball team. Although the team graduated six seniors last season, she noted that the two returning players will be able to showcase their leadership as captains.
Durham said that the team's youth will be a roadblock at the beginning of the season, but the experience the girls will gain will help them become more competitive.
Overall, they're looking forward to what they hope will be an exciting and successful season.
Hang on for a minute...we're trying to find some more stories you might like.