ParTea is a Party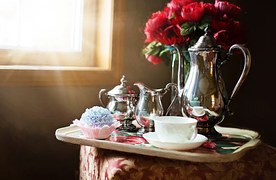 Hannah Wavrek, Sports Editor
January 7, 2016
The 2015-2016 school marked the first year of the club ParTea. Started by Grace Golembiewski '18 and Meredith Bruns '18, ParTea exists as a club for friends to get together and enjoy something they all enjoy—tea!
Their love of tea is what drove them to start The ParTea Club with teacher adviser Mrs. Houston. Grace and Meredith have grown up drinking tea and continue to do so almost everyday.
ParTea is a laid-back environment where students can relax and drink tea with fellow Reginites. The club meets every other Friday at 3:30.
Each week the meetings have a different theme. At meetings, tea and food fitting within the theme, such as scones, are served to go along with the movie or TV show they watch.  For example, at their Jan. 8 meeting, they viewed an episode of Downton Abbey while sipping tea and eating finger sandwiches.
Advisor Mrs. Houston has been impressed with the success of ParTea and the girls' commitment to their regular meetings.
ParTea has been one of the most successful new clubs of this year and it will be continuing into the new year.