DIY: Pizza Dip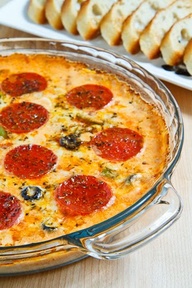 Bella D'Agostino, Photography Editor
May 4, 2016
Pizza Dip is extremely delicious and a big hit with everyone! It is just like pizza, but it has no dough and you can dip anything you want in it. It is very simple to make, a great appetizer, and even a daily snack.
Ingredients:
200g/60z Cream Cheese
3 Cups Milk
1-3 Cup Cheese
2 Cups Pasta Sauce
Pepperoni Slices
Instructions:
Add cream cheese, milk, and 1 cup of cheese into a pot and mix until thick.
Put the mix into the bowl and add 2 cups of pasta sauce.
Add more cheese on top of the mixture.
Add pepperoni slices on top of mixture.
Cook at 230C/450F for 8-10 minutes.
Enjoy!