Allie Svachula to Pursue Engineering Thanks to STEAM Club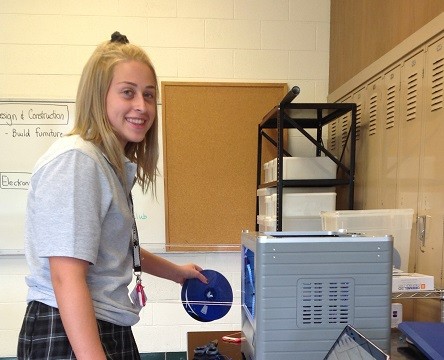 Junior Allie Svachula is a STEAM club fanatic. (STEAM stands for Science, Technology, Engineering, Arts, and Math.) She said it is super easy to join and become involved. She highlights the point that "Team STEAM" is not exclusive at all. The club is based solely on student driven projects. Svachula states, "You get what you put into it." Svachula's dream is to become an Engineer at Purdue University. 
Svachula is hard working and constantly making improvement for Team STEAM. She is always in the lab brainstorming. Also, she is always making a comittment to teach others how to use all the gadgets.
Svachula also states that STEAM is constantly improving. Steam members are always learning new ideas while collaborating with other students and teachers. For example, the company of the 3D printer, Dremel,  wants to come in and give a workshop on 3D printing and design. Mrs. Block, Ms. Block's mom, comes into the lab and helps with cardboard design.
For the upcoming open house, STEAM really wants to showcase all of the great things they have to offer for the prospective panthers. Although their ideas are still in the making, they definitely have some great ideas in mind. They are currently working on a miniature city made using 3D pens. STEAM's ultimate goal is to establish their own class. This would would be a way for girls who are interested in Engineering or the sciences to really have a head start for college. This is a class that girls would want to go to and enjoy what they are learning about. Many girls are very interested in STEAM and are in high hopes that it will become a class.
It is amazing how far STEAM has come in such a short time span. Svachula is also jump starting a new project for STEAM. She is currently in the process of making monogram keychains with the 3D printer. She hopes to sell them as a fundraiser for STEAM so that they can constantly buy new technology to put in the lab.
Svachula has had endless opportunities through STEAM. She hopes that these experiences will help her throughout college as well.