Alexandria Ocasio-Cortez Is A Strong Congresswoman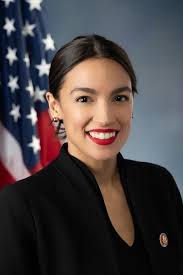 Mia Galante, Contributing Staff Writer
March 29, 2020
Alexandria-Ocasio Cortez or "AOC" has become one of the most controversial political figures since assuming office in the United States House of Representatives in 2019.
She won against 10-term incumbent and fourth-ranking member of the House of Representatives, Joe Crowly in the 2018 primary election which was called one of "the biggest upsets in American political history" by numerous major news outlets.
It was clear from this victory that AOC was the breath of fresh air needed in Congress. She's a young, Hispanic, Democratic socialist from the Bronx and represents a group of people who are often left out of the legislative process.
Her ideas of the Green New Deal, Medicare for all, a federal jobs guarantee and abolishing ICE makes her no stranger to controversy or being the subject of a Fox News segment. Despite this, she stands strong in her convictions and continues to fight for marginalized communities and the environment.
She continues to spread her message through Twitter and Instagram and has gained a substantial following on both. It's unlikely she will be able to get the Green New Deal or Medicare for All signed into legislation, however, she is generating change by even getting elected on these policies.
People wanted change and they knew AOC was the woman who would help them towards a better society. She is a hard working and resilient woman and politician that should be celebrated during this year's Women's History Month.