The Cubs Convention was Amazing!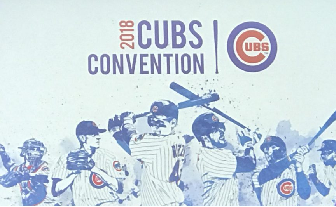 The 2018 Cubs Convention drew hundreds of people to downtown Chicago at the Sheridan Hotel on North Water Street. The fun packed weekend marked the 33rd Annual Convention from Friday January 12 to Sunday January 14, 2018. The Convention consists of celebrating the past season, while preparing for the next upcoming season.
Besides the Opening Ceremony – when all the past and new players from the previous season and the upcoming one are announced to the fans – there were other entertaining events to attend and provides fans a chance to meet the players, new, current and alumni, through panels and autograph sessions.
Here were a few must sees at the Convention:
"A Must Do" at the Cubs Convention was getting autographs. The pamphlet that the Convention provided includes the information of which players are available for autographs and at what time. The waiting time depended on which player that is featured. Most players were available for all members at the convention to see. These players include Tommy La Stella, Justin Grimm, and Jody Davis. More popular players took longer to wait for. For most starting Cubs players, a wrist band was needed that states whether the person was a season ticket holder. These players include Anthony Rizzo, Kris Bryant, and Addison Russell.
The Convention held panels which included the new, current and past players, who talked about their season, answered questions and competed against one another in games.
One of the panels was Jeopardy. Current players competed against past players for the Jeopardy title. The game was conducted the same as the Jeopardy on tv, but used baseball categories from the past to recent. Some include "Cub Award Winners," "The 2016 World Series," "2017 Cubs," and "7th Inning Stretch Singers."
Another popular event was Cubs Bingo held in the Main Ballroom. Though many say that bingo is a very relaxing game, it is totally different than the Cubs Bingo played at the Cubs Convention. The escalators became packed, people yelled and fought to get in, and it was very hard to find a table available. The Bingo became so crowded that people had to sit on the floor with their cards.
Bingo was hosted by the national singer, Wayne Messmer. The prizes included a signed baseball by players such as Kris Bryant, Wilson Contreras, and Jon Lester, a flag that has "hung over historical Wrigley Field," and gift cards to various places around Chicago. These Bingo games are the most popular and are fan favorites. There was also a live auction that takes place halfway through the games..
The Cubs Convention has so much to do and see other than what is messaged above such as Cubs Merchandise stores, Radio station interviews, and areas to play baseball. The Cubs Convention was a big "W" this year. Go Cubs and lets get some wins!

Hang on for a minute...we're trying to find some more stories you might like.